| | | |
| --- | --- | --- |
| | The NIV Study Bible Complete Library | |
Details and specifications of The NIV Study Bible Complete Library, £79.95. A powerful Bible reference tool, this renowned program offers the ability to sift through vast amounts of data to find the answers and guidance sought.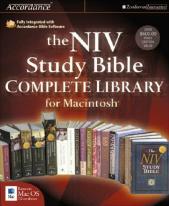 The NIV Study Bible Complete Library
for Macintosh is to biblical research what earthmoving equipment is to building highways.
Gather huge quantities of information in seconds from your whole library, all at one time! Inside this box are some of the finest Bible reference materials available today, valued at over $600 in their printed versions. But while your resources are huge, they won't overwhelm you. Accordance Bible study software sifts through the mountain of information swiftly and powerfully, enhancing your study.
This award-winning library has so many features that we can't list them all here, but consider a few highlights.
NIV Exhaustive Concordance -- Finding even an elusive Bible reference takes just a click or two, and you can paste it into your document. You can even do Greek and Hebrew lexical searches using the Goodrick-Kohlenberger numbering system. Want more information about the verse? No problem! Amplify!
Using the unprecedented power of Accordance, you can:
See a verse in context.
Access your own notes from your prior studies.
Select a word and look it up in any lexicon, Bible dictionary, commentary, topical Bible, or bible text in your growing Accordance-compatible library.
View a graph of statistical information about your search.
Diagram sentences to analyze the syntax.


Only the Mac is smart enough to run this program! NIV Bible Commentary -- You'll have instant access to this scholarly but "unstuffy" 2-volume commentary. Abridged from the acclaimed 12-volume Expositor's Bible Commentary, this Gold Medallion-winning resource cuts to the core of your information needs. NIV, KJV, NASB, and NRSV -- Four popular Bible texts are yours in an instant: - Number-one best-selling, highly acclaimed New International Version - Classic King James Version - Word-for-word, updated New American Standard Bible - Elegant New Revised Standard Version with Apocrypha -- Greek and Hebrew Texts -- One click takes you into the original Greek or Hebrew texts. View them by themselves or in parallel with your English Bible translations. True Macintosh Ease -- Is it hard to use? Fear not. This is a real Mac product -- brilliant enough to be easy. Doing the rocket science is our job; enjoying the speed, power, ease, and efficiency is yours. Get ready to take your study of God's Word to unprecedented depths.

SCREENSHOTS


---
None Available
REVIEWS


---
None available
VERSIONS


---
The NIV Study Bible Complete Library, £79.95

Compare also:
The NIV Study Bible Basic Library, £39.99
The On-Line Bible, from £30
Halley's Bible Handbook, £19.95
Logos Library Format Software, from £35
Baker Digital Reference Library Level 3, £109

SYSTEM REQUIREMENTS


---
Macintosh
System 7.0 or higher, PowerPC Recomended
8 MB RAM Min.
Hard Drive: 5 MB Min.
CD-ROM
Other Info: Acrobat Reader 4.0 (for manuals and documentation) System 7.1.2 or higher, Power Macintosh, 4.5 MB of available RAM, 8 MB of available hard disk space
PRICING


---
The NIV Study Bible Complete Library, £79.95


Prices include all applicable taxes

P&P will be charged at "light/heavy items" rates (1/2/3 etc 3/5/6) - see below

Email to check latest pricing or stock availability

Check Exchange Rates to convert UK pricing
Postage, Packing & Insurance Rates
1
UK light items (2nd class)
£3 (GBP)
2
UK light items insured (1st class) Any orders over £100
Customers may choose this rate on light items under £100 to speed delivery
£6 (GBP)
3
UK heavy items parcelpost
UK light items next day guaranteed
Europe light items
£9 (GBP)
4
World surface mail
£12 (GBP)
5
Europe heavy items
£15 (GBP)
6
UK heavy items next day guaranteed
World airmail
£18 (GBP)
If you require the outer packaging of your order to be intact for a gift then please add this to any special instructions as normally excess weight is removed before despatch to increase chances of a standard letter box delivery, and thus not require you to wait in to receive your order. Minimum P&P on fully boxed orders is £6
ORDERING


---
Any questions prior to ordering? - Then email: sales@bmsoftware.com.

To order, use the online

If the online [Order Form] fails for any reason or your product is not yet listed there, or you wish to print and send your order, then fill in the following, hit the [Select details] button, and copy and paste to your email program or word processor:

Now hit Ctrl+C to copy the selected text to your clipboard and then paste (Ctrl+V) it into your preferred program Make sure you read our Terms and Conditions.
CONTACT DETAILS


---
Click here for full Contact Details including postal address, additional phone lines and technical support email.

Whilst we are based in the UK we can ship most items internationally.


| | | | | | | | |
| --- | --- | --- | --- | --- | --- | --- | --- |
| | RETURN TO TOP OF PAGE | | CLOSE WINDOW | | PRINT PAGE | | HOME |