Details and specifications of Halley's Bible Handbook, £19.95. In easy-to-read, bite-size bits, Halley's Bible Handbook covers a huge swath of biblical knowledge. Use it to access specific verses from the Bible, read the commentaries, or learn about the Bible's history, as well as the Scriptures themselves.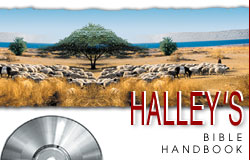 Halley's Bible Handbook
Halley's Bible Handbook – Dr. Henry Halley wrote his classic handbook with one goal in mind: to help people know not merely the bible, but its heart and soul, Jesus Christ. Halley prized clarity, simplicity, and accessibility. That's why he would have loved the Halley's Bible Handbook CD-ROM—because it makes grasping the essence of the Bible easier than ever.

In easy-to-read, bite-size bits, Halley's Bible Handbook covers a huge swath of biblical knowledge. No need to flip pages or reach for supplementary volumes. A simple mouse click speeds you from the table of contents or the index to Halley's insights on: • The Habit of Bible Reading • Notable Sayings About the Bible • What the Bible Is • How the Bible is Organized • The Settings of the Bible (the Ancient Near East, world powers of biblical times, roads and travel, Israel and Jerusalem, and more) • Was Jesus the Son of God? • The 12 Disciples • The Early Church • A Brief History of the Western Church • How We Got the Bible…and much, much more.

Understanding Made Easy
With remarkable clarity, Halley's offers section-by-section commentary on the entire Bible—with an organizational brilliance that makes the Bible easily accessible to everyone, and with a depth that seasoned Bible readers will appreciate.

Find out about the peoples and cultures of the Bible. Discover how the Bible came together and how its text was preserved. Learn how to read the Bible, and what basic tools you need for studying it. Halley's Bible Handbook CD-ROM will help you understand the Scriptures in a way that deepens your relationship with the Person they're all about—Jesus.

The entire Halley's Bible Handbook, revised and updated to make reading crystal-clear and information current

Halley's Bible Handbook CD-ROM features:


Complete text of the celebrated Halley's Bible Handbook.
Complete New International Version and King James Version.
Current archaeological information and insights.
90 color maps plus numerous graphs and charts, located in text for immediate access.
Over 160 full-color, in-text photographs.
Links from the table of contents and index to the desired location in the text.
Zoom capability lets you enlarge all images.
Bible study tips help you get the most from God's Word.
Links by verse reference or topic to the NIV and KJV. Finding the Scriptures behind the Halley's text is just a click away!
Links by topic from the NIV and KJV to Halley's.
Compatible with other Zondervan Reference Software®.
Thank you for your interest in Zondervan products.
SCREENSHOTS


---
Use you back button to return to this page after viewing the screenshots.

Screenshot 1 | Screenshot 2
REVIEWS


---
None available
VERSIONS


---
Halley's Bible Handbook, £19.95
The Online Bible, from £30
SYSTEM REQUIREMENTS


---
Pentium 166 MHz or higher processor
Windows® 95, 98, 2000, ME, or Windows® NT
32 MB of RAM
14 MB of hard disk space
CD-ROM drive
VGA or higher resolution monitor
Pointer device
Printer
PRICING


---
Halley's Bible Handbook, £19.95


Prices include 17.5% VAT

P&P will be charged at "light/heavy items" rates (1/2/3 or 4/5/6 etc) - see below

Email to check latest pricing or stock availability

Check Exchange Rates to convert UK pricing
Postage, Packing & Insurance Rates
1
UK light items (2nd class)
£3 (GBP)
2
UK light items insured (1st class) Any orders over £100
Customers may choose this rate on light items under £100 to speed delivery
£6 (GBP)
3
UK heavy items parcelpost
UK light items next day guaranteed
Europe light items
£9 (GBP)
4
World surface mail
£12 (GBP)
5
Europe heavy items
£15 (GBP)
6
UK heavy items next day guaranteed
World airmail
£18 (GBP)
If you require the outer packaging of your order to be intact for a gift then please add this to any special instructions as normally excess weight is removed before despatch to increase chances of a standard letter box delivery, and thus not require you to wait in to receive your order. Minimum P&P on fully boxed orders is £6
ORDERING


---
Any questions prior to ordering? - Then Email: sales@bmsoftware.com.

To order, use the online

If the online ORDER FORM fails for any reason or your product is not yet listed there, or you wish to print and send your order, then fill in the following, hit the Select details button, and copy and paste to your email program or word processor:

Now hit Ctrl+C to copy the selected text to your clipboard and then paste (Ctrl+V) it into your preferred program
CONTACT DETAILS


---
Click here for full Contact Details including postal address, additional phone lines and technical support email.

Whilst we are based in the UK we can ship most items internationally.


| | | | | | | | |
| --- | --- | --- | --- | --- | --- | --- | --- |
| | RETURN TO TOP OF PAGE | | CLOSE WINDOW | | PRINT PAGE | | HOME |