Details and specifications of The Holy Land Experience, £14.95. The most compelling and uplifting multimedia experience of the Holy Land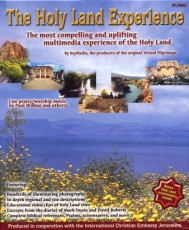 Journey through interactive maps of the Holy Land to famous sites.
Study over 80 in-depth regional and site descriptions.
Follow an interactive chronological timeline of the life of Jesus.
View hundreds of inspiring photographs of Israel.
Be inspired by moving multimedia meditations of Galilee, Negev, and Jerusalem.
View over 15 educational video lessons
Walk with Jesus and experience the teachings of his ministry.
Peek into the diaries of famous pilgrims and share their experiences.
Explore traditional sites, fully indexed with biblical references and comprehensive search engine.


The Holy Land Experience is the most compelling and moving multimedia adventure in the Holy Land, created specifically for the Protestant community. This tremendous project was undertaken in cooperation with the International Christian Embassy Jerusalem to breathe fresh life from Zion into the hearts of Christians throughout the world. The content was organized and edited by Dr. Randall Smith, Director of The Jerusalem Institute, to insure its accuracy.

The Holy Land Experience brings this ancient land to life, illuminating the words of Jesus and the prophets in the Old and New Testaments with inspiring pictures, educational videos, exhilarating praise/worship music from Zion, multimedia meditations, Psalms, and more… Features: Hundreds of illuminating photographs. In-depth regional and site descriptions. Educational video clips of Holy Land sites and events. Exhilarating praise/worship music from Zion. Inspiring multimedia meditations. Interactive timeline of the life of Jesus. Excerpts from the diaries of Mark Twain and David Roberts. Interactive colorful maps. Complete biblical references, Psalms, screensavers, and more…

SCREENSHOTS


---
None Available
REVIEWS


---
None available
VERSIONS


---
The Holy Land Experience, £14.95

Compare also:
Get Lost in Jerusalem, £29.95
A Walk in the Footsteps of Jesus, £24
SYSTEM REQUIREMENTS


---
Windows 95/98 or later
4MB RAM
CD ROM X4
16 bit monitor resolution
PRICING


---
The Holy Land Experience, £14.95


Prices include all applicable taxes

P&P will be charged at "light/heavy items" rates (1/2/3 or 3/6) - see below

Email to check latest pricing or stock availability

Check Exchange Rates to convert UK pricing
Postage, Packing & Insurance Rates
1
UK light items (2nd class)
£3 (GBP)
2
UK light items insured (1st class) Any orders over £100
Customers may choose this rate on light items under £100 to speed delivery
£6 (GBP)
3
UK heavy items parcelpost
UK light items next day guaranteed
Europe light items
£9 (GBP)
4
World surface mail
£12 (GBP)
5
Europe heavy items
£15 (GBP)
6
UK heavy items next day guaranteed
World airmail
£18 (GBP)
If you require the outer packaging of your order to be intact for a gift then please add this to any special instructions as normally excess weight is removed before despatch to increase chances of a standard letter box delivery, and thus not require you to wait in to receive your order. Minimum P&P on fully boxed orders is £6
ORDERING


---
Any questions prior to ordering? - Then email: sales@bmsoftware.com.

To order, use the online

If the online [Order Form] fails for any reason or your product is not yet listed there, or you wish to print and send your order, then fill in the following, hit the [Select details] button, and copy and paste to your email program or word processor:

Now hit Ctrl+C to copy the selected text to your clipboard and then paste (Ctrl+V) it into your preferred program Make sure you read our Terms and Conditions.
CONTACT DETAILS


---
Click here for full Contact Details including postal address, additional phone lines and technical support email.

Whilst we are based in the UK we can ship most items internationally.


| | | | | | | | |
| --- | --- | --- | --- | --- | --- | --- | --- |
| | RETURN TO TOP OF PAGE | | CLOSE WINDOW | | PRINT PAGE | | HOME |