| | | |
| --- | --- | --- |
| | Get Lost in Jerusalem: Explore the Holy Ciry Through Virtual Reality | |
Details and specifications of Get Lost in Jerusalem: Explore the Holy Ciry Through Virtual Reality, £29.95. The tour you've always wanted! Explore Jerusalem by yourself or take a guided tour to explore, and discover this amazing city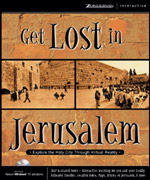 Explore the Holy City Through Virtual Reality

Get Lost in Jerusalem gives people a multimedia experience of Jerusalem. Including 360-degree panorama with high resolution Zoom. This isn't just scenery. There are key points of interest such as the ability to walk through the Church of the Holy Sepulcher. These visually appealing and exploratory abilities combine with the ability to accept an assignment. This is a game where the program gives you the job of finding a particular location in Jerusalem. Using the 360-degree panorama and hot spots, the user must find the location in record time. It is fun and educational. A great product for students, teachers or the family.

Catalog Description:

For all educational levels and applications:

Home school College and seminary Personal growth

Church education Pastoral resource

The Tour You've Always Wanted

Trace the roots of your faith to sights you can see, sounds you can hear . . . a Jerusalem you can experience and never forget.

Its rich history echoes with the clamor of ancient battles, the worship of temple priests, the cries of merchants, the crunch of Roman boots, and the voice of Jesus himself. City of miracles, place where Christ died and rose again, center of three world religions--Jerusalem is like nowhere else in the world.

Next to actually boarding a plane for the Holy City, the software package you're holding is the most exciting way to take the trip you've dreamed of--a virtual tour through Jerusalem that leaves no stone unturned. Visit the places you've longed to see and others you've never dreamed of. Learn their historical significance and their geography. Take a guided tour--or do it yourself. You're free to roam, to explore.

Go Where You Want--Then Look Around!

Experience the sights and sounds of Jerusalem with a virtual tour of over 300 sites including numerous buildings and historical locations. Wind your way through the Church of the Holy Sepulchre, exploring in detail its rooms and halls, nooks and crannies . . . or visit the Western Wall, or the Pool of Bethesda, or wherever you wish. Click-and-drag for a 360-degree panorama. Zoom in on points of interest. Ambient sounds recorded on location add immediacy to your experience, and background music enhances the mood at your desire.

Seen enough? A click when the cursor indicates a "hot spot" whisks you to a different view, even a different site. A directional indicator tells you at all times whether you're facing north, east, south, or west.

Four Doors to Discovery

Choose from four icons for unique ways to tour Jerusalem--even interact with it!

Conquer Jerusalem's Environment. Colorful maps, graphics, and clear, easy-to-read text give you a fundamental grasp of Jerusalem's:

History Timeline Geography Theology Geological History

Explore Virtual Jerusalem.

You're on your own! Pick the sites you want to visit from a map or from a list of sites--300 places and even more views to choose from. Click an icon to gain fascinating, essential information.

Guided Tours.

Rather have a "guide" take you on an organized, well-planned tour through the city? Whether you opt for voice narration or text box, this is a great way to get acquainted with Jerusalem!

Play a Game.

Reinforce what you've learned by applying it. Accept any of seven missions that require you to find your way through the city in record time. Or play matching games that test your knowledge of geographic locations.

SCREENSHOTS


---
Use you back button to return to this page after viewing the screenshots.

Screenshot 1 | Screenshot 2 | Screenshot 2
REVIEWS


---
Use you back button to return to this page after viewing the reviews.

Reviews
VERSIONS


---
Get Lost in Jerusalem: Explore the Holy Ciry Through Virtual Reality, £29.95

Compare also:

SYSTEM REQUIREMENTS


---
Pentium based PC
32Mb RAM (min)
Windows 95, 98, ME, 2000, NT
A Sound Blaster or Compatible
DirectX version 3.0 or later recommended
16-bit high colour
PRICING


---
Get Lost in Jerusalem: Explore the Holy Ciry Through Virtual Reality, £29.95


Prices include all applicable taxes

P&P will be charged at "light/heavy items" rates (1/2/3 or 3/6) - see below

Email to check latest pricing or stock availability

Check Exchange Rates to convert UK pricing
Postage, Packing & Insurance Rates
1
UK light items (2nd class)
£3 (GBP)
2
UK light items insured (1st class) Any orders over £100
Customers may choose this rate on light items under £100 to speed delivery
£6 (GBP)
3
UK heavy items parcelpost
UK light items next day guaranteed
Europe light items
£9 (GBP)
4
World surface mail
£12 (GBP)
5
Europe heavy items
£15 (GBP)
6
UK heavy items next day guaranteed
World airmail
£18 (GBP)
If you require the outer packaging of your order to be intact for a gift then please add this to any special instructions as normally excess weight is removed before despatch to increase chances of a standard letter box delivery, and thus not require you to wait in to receive your order. Minimum P&P on fully boxed orders is £6
ORDERING


---
Any questions prior to ordering? - Then email: sales@bmsoftware.com.

To order, use the online

If the online [Order Form] fails for any reason or your product is not yet listed there, or you wish to print and send your order, then fill in the following, hit the [Select details] button, and copy and paste to your email program or word processor:

Now hit Ctrl+C to copy the selected text to your clipboard and then paste (Ctrl+V) it into your preferred program Make sure you read our Terms and Conditions.
CONTACT DETAILS


---
Click here for full Contact Details including postal address, additional phone lines and technical support email.

Whilst we are based in the UK we can ship most items internationally.


| | | | | | | | |
| --- | --- | --- | --- | --- | --- | --- | --- |
| | RETURN TO TOP OF PAGE | | CLOSE WINDOW | | PRINT PAGE | | HOME |