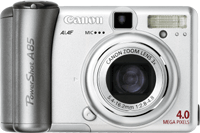 We mainly stock Canon digital cameras at the lowest prices. We also have access to even lower prices of some discontinued digital camera lines, remarketed models, refurbished returns and occasionally second-user cameras. So we should be able to find something to suit you. By restricting our range to models from Canon, Fuji, Minolta, Nikon, Sony we stick to the quality brands and we always check the reviews before selling a model to endure that it is has received at least 3 or 4 out of 5 in review ratings.

Canon digital cameras have an unsurpassed reputation from the smallest iXUS to the top of the range Pro digital SLRS, with all the powershots and other models in between.

Apart from Canon, we also sell Fuji, Minolta, Nikon, Sony, and Olympus camera models.

We stock a range of accessories including CF/SD memory and Card readers and Photographic Printers.