Details and specifications of CorelDraw 7, £35 (GBP inc VAT Original RRP £495). This product is no longer available. Please consider [other versions] or call us on 0844 808 3699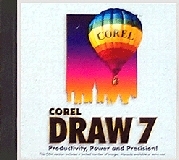 Corel Draw 7 is full featured Drawing program, desktop publishing, and profesional photo image editing. The Select version includes Corel Draw and Corel Photo-Paint, which are full versions of these two programs with all their features intact. Corel Draw is the worlds most popular drawing program and is used by millions of people across the world. The Select Edition also contains over 450 ready-made templates that will help you to create professional looking graphics with ease. In addition, for those of us who can't spell as well as others who never seem to come up with just the right word, the Select Edition comes with a Spell Checker and Thesaurus built in. The Select Edition differs from the standard edition in that it contains a smaller graphics library, fewer fonts and does not include some of the additional programs.
Optimized performance: faster open, save, import, export and redraw
Greater ease of use with CorelTUTOR and context-sensitive Hints
Context-sensitive Property Bar; functions are swapped depending on the object and tool selected
Fully customizable, streamlined user interface
New view qualities: Simple Wireframe, Draft and Enhanced
Drag-and-drop colors, fills, outlines, clipart images, photos and styles
Extensive right mouse button support
Click-and-drag transparency, fountain fills and blends
Pressure-sensitive Natural Pen tool for creation of calligraphic and artistic sketching effects
Point-and-click text on a path or text wrap within an object
Linked Color Styles for quick re-coloring of illustrations
Advanced management of pages, layers and objects using new Object Manager
Find nd replace colors, outlines, fonts and more
Enhanced special effects: beveled extrusion, accelerated blending and color adjustment of vector illustrations
Comprehensive bitmap effects and support for industry-standard bitmap plug-ins
Over 450 professionally designed templates, including many samples from PaperDirect
Internet graphics support: Web browser color palettes, image map creation tools, HTML, Corel Barista , transparent GIF and JPEG
Corel Photo Paint Features:
Powerful new internal memory management for loading, editing and saving extremely large images
Greater ease of use with the CorelTUTOR and streamlined user interface
Context-sensitive Property Bar; functions are swapped depending on the tool selected
Layer mode for more flexible image compositing
Rulers, grid and guidelines
Click-and-drag object transparency and gradient fills
New Object Transparency Brush tool for flexible adjustment of transparency using any brush nib
Scissors Mask tool for creating masks based on color tolerance and user-defined area
Image Sprayer tool for realistic collage effects
Automatic Drop Shadow effect
Freeform object transformations: rotate, resize, scale, skew, distort and perspective
Soft-nib and anti-aliasing support on all brushes
Ability to save and modify pressure-sensitive pen settings
Convenient pop-up' Navigator window
Scrapbook; drag-and-drop images, objects and photos
Adobe Photoshop - compatible format, export, acquire and filter plug-in support
Additional plug-in filters including Extensis Intellihance, Kai's Power Tools® 3.0 SE, Cytopia PhotoLab , Auto F/X Photo/Graphic Edges and Digital Watermarking from Digimarc Corporation
Internet graphics support: Web browser color palettes, image map creation tools, animated and transparent GIF and Progressive JPEG

The main improvement in Corel Draw 7 is the addition of a property bar. This interactive bar displays options and settings that are context-sensitive to the object selected. For example, when drawing a box, the property bar displays options for the curve on corners, positioning, scaling and other details. If you click on a bitmap, the bar offers options such as re-sampling and editing, as well as colour adjust- ment which alters the hue, saturation, and brightness. With this bar, all the options are at your fingertips, so there is no need to search laboriously through menus.
UPGRADE
To purchase the upgrade version, you must own a previous licensed version of:
CorelDRAW Graphics Suite
CorelDRAW (standalone)
CorelDRAW Classic
CorelDRAW Select
CorelDRAW Graphics Suite – Special Edition
Corel® PHOTO-PAINT™ (standalone)
Corel DESIGNER®
Corel® Painter™
Micrografx Designer®
Micrografx Graphics Suite®
Micrografx® Picture Publisher® or Corel® Picture Publisher®
Note: Upgrade eligibility excludes academic, OEM and Not For Resale (NFR) versions. Corel products not listed above are not eligible for the upgrade version.

SCREENSHOTS


---
REVIEWS


---
PC Magazine, February 1997
"Corel Draw 7 may be overkill for many users, but comprehensive resources and advanced easy-to-use functionality make it essential for any business from small companies with no design experience to medium-size and large companies, which will appreciate its range of features."
SYSTEM REQUIREMENTS


---
Pentium 200 or higher
64/128Mb of RAM
211Mb of disk space
Windows 95, 98, ME, 2000 or NT 4.0, (XP)
SVGA
CD-ROM
VERSIONS & ALTERNATIVES


---
| | | | | | | |
| --- | --- | --- | --- | --- | --- | --- |
| Corel | CorelDRAW 7 | £35 | (RRP £) | [CDRAW7] | Buy | | View |

Compare also:


| | | | | | | |
| --- | --- | --- | --- | --- | --- | --- |
| Corel | CorelDRAW 4 | £9.95 | (RRP £) | [CDRAW4] | Buy | | View |
| Corel | CorelDRAW 5 | £15 | (RRP £) | [CDRAW5] | Buy | | View |
| Corel | CorelDRAW 6 | £25 | (RRP £) | [CDRAW6] | Buy | | View |
| Corel | CorelDRAW 8 | £49 | (RRP £) | [CDRAW8] | Buy | | View |
| Corel | CorelDRAW 9 | £79 | (RRP £) | [CDRAW9] | Buy | | View |
| Corel | CorelDRAW 10 | £119 | (RRP £351.50) | [CDRW10] | Buy | | View |
| Corel | CorelDRAW 11 UPGRADE | £149 | (RRP £) | [CDR11U] | Buy | | View |
| Corel | CorelDRAW 11 Boxed | £199 | (RRP £) | [CDRW11] | Buy | | View |
| Corel | CorelDRAW 12 Boxed | £299 | (RRP £421.83) | [CDRW12] | Buy | | View |
| Corel | CorelDRAW 12 UPGRADE | £199 | (RRP £210.33) | [CDR12U] | Buy | | View |
PRICING


---
| | | | | | | |
| --- | --- | --- | --- | --- | --- | --- |
| Corel | CorelDRAW 7 | £35 | (RRP £) | [CDRAW7] | Buy | | View |

Also see alternative versions and products above

Prices are in £GBP and include all applicable taxes (VAT etc)

P&P will be charged at "light items" rates
(Some valuable items may have to go special delivery and packages may have outer packaging or inner boxing removed to save weight, if this is a gift or for resale please request intact boxes)

See our full Postage & Delivery Details including shipping rates within the UK, Europe and worldwide, first class and next day before 9 AM and 12 Noon, same day options.

Email to check latest pricing or stock availability

Check Exchange Rates to convert UK pricing or Email us with your country and/or currency for a quote.


ORDERING


---
Any questions prior to ordering? - then email: Sales or call us on 0844 808 3699, otherwise proceed to the Order Form.

If the online Order Form fails for any reason or your product is not yet listed there, or you wish to print and send your order, then fill in the following, hit the [Select details] button below, and copy and paste to your email program or word processor:

Now hit Ctrl+C to copy the selected text to your clipboard and then paste (Ctrl+V) it into your preferred Email program or click here to launch your Email editor.
CONTACT DETAILS


---
Click here for full Contact Details including postal address, additional phone lines and technical support email.

Whilst we are based in Norwich, Norfolk in the UK we can ship most items internationally.


RETURN TO
TOP OF PAGE

CLOSE
WINDOW

PRINT
PAGE

HOME
PAGE

TERMS AND
CONDITIONS

HELP ON USING
THIS SITE