Details and specifications of 's - Bible Codes 2000, £49.00 (GBP inc VAT RRP £54.00). Most advanced, most complete Bible codes program ever developed! This program has now been replaced by TES Bible Codes Plus. If the page is not automatically re-directed, click here to see new version. [Buy now] or call us on 0870 766 3699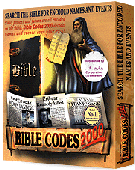 Bible Codes 2000

Decode any event or name, including your own or your families! Past, present and future events, encoded 3,000 years ago in the Bible Can now be decoded by computer! An ancient tradition sta that God dictated the first five books of the Bible - the Torah - to Moses, in a precise letter by letter sequence, Which encodes historic facts, past, present and future. In 1994, scientists at the Hebrew University in Jerusalem published and article in the scholarly journal Statistical Science reporting their Discovery of the Bible Codes, decoded with the help of computers. Since then, the Bible Codes have become the center of international Interest and intense debate.

Exclusive "Know-no-Hebrew" technology opens the Bible Codes to millions of English speaking people! Bible Codes 2000 uses the same process of equidistant skip intervals, discovered by the codes encrypted in the Hebrew Scriptures, with the addition of a unique, amazing feature; Automatic translation from English to Hebrew and from Hebrew to English! This is allows the English speaking user to search the Hebrew text without any knowledge of Hebrew. The user enters an English search word, the program automatically transla it to Hebrew, searches the text, and retrieve the Hebrew codes found and shows their English translation!

With the Bible Codes 2000 you can search the Bible for any event or name, including your own or your families! You can enter any English word or name, and Bible Codes plus will translate or transliterate it to Hebrew and search to see if it is encoded in the Bible. When the code is found, the program tells you list of all the Hebrew words found in close proximity and shows their English translation. The program includes a powerful bilingual English / Hebrew - Hebrew / English dictionary, a user expandable bilingual dictionary, a list of 2000 biblical names and bilingual list over 3000 first names.

Bible Codes 2000 is a generation ahead of any other codes program. The lat version of Bible Codes 2000 has been designed for advanced researchers and scholars but beginners will also enjoy working with it, because, in the words of a software reviewer, "Bible Codes 2000 is a masterpiece of simplicity".


Features


Designed to work under Windows 95, Windows 98, Windows NT/2000, Windows ME, Windows XP
Exclusive "Know-no-Hebrew" technology, combines translation capabilities with Biblical software
Step by step on-screen tutorial that allows you to switch between the Tutorial and the program, and thus to replicate the research steps in "real" time.
Year 2000 full compatibility
Complete Masoretic text of the Hebrew Bible, (the only computer program with Hebrew text officially authorized by the Koren Bible)
Side by side English translation of the Hebrew text in parallel columns
Synchronization of English and Hebrew text can be turned on/off
Lines separating verses can be turned on/off
"Nikud" (Hebrew vowels) can be turned on/off
Includes special True Type Hebrew fonts
Hebrew text can be pasted into your word processor's document.
Displays and prints Biblical Hebrew and English text
Summary and description of every Bible book
Unlimited word and phrase search in the Bible
Virtual on-screen Hebrew keyboard with automatic transliteration from English
User-specified colors for highlighting key letters and words in the text.
User-specified setting for display and printing of G-d in whole or partial mode
Complete English concordance
Complete Hebrew concordance
Finds all words with prefixes and suffixes to an specified Hebrew root
Calcula the number of times any specified word appears in the Bible
Instant "go to" book, chapter and verse.
Identifies the number of every letter, word and verse in the text
Instant "go to" to any letter, word or verse according to its number.
Bilingual anagram feature.
Inter-active with the optional companion bilingual dictionary/thesaurus Super Milon
Access to the Internet from inside the Help Menu of the program
Comprehensive 100 page User's Manual
Help Menu includes Contents and Index for quick and immediate consultation
Bilingual databases
Powerful bi-directional dictionary Hebrew to English, English to Hebrew
User expandable bilingual dictionary
Automatic prompting by the program to enter the English translation when adding a new word or phrase
Bilingual Lexicon database
Complete list of all Biblical names with their English equivalents and meaning
List of thousands of first names with their transliteration to Hebrew
Date converter from Gregorian calendar to Hebrew calendar
Number converter, ordinal and cardinal, to Hebrew characters
Copy and paste of Hebrew words from the bilingual databases into the Search input fields.
Statistics features
Automatic calculation of expected number of key code occurrences before the search is executed
Automatic comparison between expected occurrences and actual number found
Automatic report of Standard Deviation and Odds about the found key codes
Search features
Automatic search of the key code as entered and in reverse order of the letters
Multi-code initial search, for key code and up to six alternative codes each time
Cut and paste between the key code and alternative codes input fields
Copy and paste of Hebrew words from the bilingual databases into the Search input fields.
Automatic and manual specification of the range of text to be searched
Allows from 1 to 100000 skip intervals, and automatically corrects if number specified is too large
Retrieves up to a limit of 10000 occurrences
Automatic calculation of the maximum possible number of skips in the specified range
Automatic display on screen table and printouts of the search results
Clicking any letter of the code on the screen table shows the letter in-context in the text.
Can import from the optional companion program bilingual dictionary/thesaurus Super Milon
Automatic calculation of expected number of specified key code occurrences
Sorts found key codes occurrences by location, skip and codes
Saves your found code for immediate retrieval.
Includes 44 pre-saved codes for immediate automatic retrieval
Matrix features
Found key code is shown in a vertical column in red letters inside circles.
The alternative codes found can be shown horizontally, vertically or diagonally
Codes found are shown in separate colors
Codes found are shown inside different geometrical shapes, such as circles and squares
Saves your retrieved matrix for immediate retrieval
Matrix can be printed
Matrix screen can be saved as an bmp file and pasted in any document
Grid lines can be turned on/off
Geometrical shapes can be turned on/off
"Nikud" (Hebrew vowels) can be turned on/off
Includes 44 pre-saved matrixes for immediate automatic retrieval
Search within search in the matrix for unlimited number of additional codes
Additional codes can be searched horizontally, vertically, diagonally and diagonally "with steps"
Identifies Hebrew words in the matrix and retrieves them with their English translation
Allows skip split that turns the two-dimensional matrix into a virtual multi-dimensional matrix
Allows changing the parameters of the retrieved matrix, including range of text and length of line
Proximity feature to estimate the ranking of clustered codes
Instant "pop-up" of the Hebrew verse and its English translation when clicking on any letter
Instant identification of any letter in the matrix showing its number and location in the text.
Shows list of the codes marked in the matrix with their English translation, in their color and shape.
User-specified colors for highlighting any letter in the matrix.
User-specified geometrical shapes for highlighting any letter in the matrix.
Zoom-in and zoom-out allows you to increase or decrease the matrix.



Our Product Ref: BIBCOD
SCREENSHOTS


---
None Available
REVIEWS


---
It is my opinion that Bible Codes 2000 (BC2K) is the program
for any one that is new to the area of code research! - J.W. Embry Full Review
SYSTEM REQUIREMENTS


---
| | | | |
| --- | --- | --- | --- |
| | Windows PC | Yes | Windows 95 and higher |
| | Apple MAC | N/A | Purchase Virtual PC first |
| | Linux | N/A | |
VERSIONS, OPTIONS & ALTERNATIVES


---
| | | | | | |
| --- | --- | --- | --- | --- | --- |
| | - Bible Codes 2000 | £49.00 | (RRP £54.00) | [BIBCOD] | Buy |
PRICING


---
| | | | | | |
| --- | --- | --- | --- | --- | --- |
| | - Bible Codes 2000 | £49.00 | (RRP £54.00) | [BIBCOD] | Buy |
Prices are in £GBP and include all applicable taxes (VAT etc)

P&P will be charged at "light/heavy items" rates (1/2/3 or 3/6) - click here for full Postage & Delivery Details including shipping rates within the UK, Europe and worldwide, same day and next day before midday options.

Email to check lat pricing or stock availability

Check Exchange Ra to convert UK pricing or Email us with your country and/or currency for a quote.


ORDERING


---
Any questions prior to ordering? - then email: Sales or call us on 0870 766 3699, otherwise proceed to the Order Form or Buy now.

If the online Order Form fails for any reason or your product is not yet listed there, or you wish to print and send your order, then fill in the following, hit the [Select details] button below, and copy and paste to your email program or word processor:

Now hit Ctrl+C to copy the selected text to your clipboard and then paste (Ctrl+V) it into your preferred Email program or click here to launch your Email editor.
CONTACT DETAILS


---
Click here for full Contact Details including postal address, additional phone lines and technical support email.

Whilst we are based in Norwich, Norfolk in the UK we can ship most items internationally.


RETURN TO
TOP OF PAGE

CLOSE
WINDOW

PRINT
PAGE

HOME
PAGE

TERMS AND
CONDITIONS

HELP ON USING
THIS SITE