Details and specifications of Tombraider II, £4.99. This superb game is now at an amazing price! Pit your wits and test your shooting skills in this all-round 3D, interactive exploratory adventure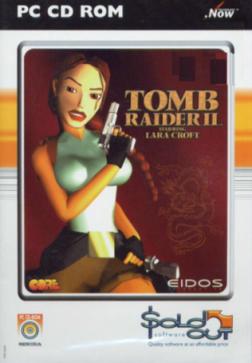 Lara Croft returns in the Tombraider II to discover the secret of the dagger of Xian. The ancient Chinese beleived that whoever recovered this mythical dagger would gain powers beyond belief...provided they had the courge to plunge the dagger deep into their heart. Lara's travels start at The Great Wall of China but its not long before she's globetrotting in hot persuit of clues that will lead her to her ultimate goal. However, she's not alone in her new adventure: this time there are others who have a seemingly fanatical interest in the dagger.

Featuring an enhanced Lara Croft, complete with costume changes, Tombraider II combines the classic gameplay of the original with an array of improved features including: enhanced engine, dynamic lighting, exterior settings, new moves, new weapons and a plot that will have Lara twisting and turning around every corner.

Whether your game is strategy, sport, sim or shoot 'em up, Sold Out bring you the biggest game at the lowest price around.

It couldn't be simpler to get to the action straight away! Every new Sold Out product includes their unique .NOW technology trade which installs relevent game files, displays your player guide, and provides compreensive off-line support. In addition, it is your gateway to a whole host of on-ine services such as technical support, hints and tips.

You will find everything you need to play your game on this CD, including Adobe Acrobat Reader 4.0, Macromedia Shockwave™ Player, Microsoft Internet Explorer, and any patches and updates that have become available. There really isn't a better choice for quality, value and service.



SCREENSHOTS


---
None Available
REVIEWS


---
None available
VERSIONS


---
Tombraider II, £4.99

Compare also:
Tombraider, £4.99
SYSTEM REQUIREMENTS


---
Pentium 90 (min), 133 (rec)
MS-DOS or Windows 95/98 or ME
X4 CD ROm drive
16Mb RAM,
Garphics Card DirectX™ 5 compatible
DirectX™ 5 compatible Soundcard
Mouse and keyboard
Install.NOW™ (optional) requires Pentium compatible PC and 16Mb RAM (IE5 installation requires 18.5 Mb free hard disk space
PRICING


---
Tombraider II, £4.99


Prices include all applicable taxes

P&P will be charged at "light items" rates (1/2/3) - see below

Email to check latest pricing or stock availability

Check Exchange Rates to convert UK pricing
Postage, Packing & Insurance Rates
1
UK light items (2nd class)
£3 (GBP)
2
UK light items insured (1st class) Any orders over £100
Customers may choose this rate on light items under £100 to speed delivery
£6 (GBP)
3
UK heavy items parcelpost
UK light items next day guaranteed
Europe light items
£9 (GBP)
4
World surface mail
£12 (GBP)
5
Europe heavy items
£15 (GBP)
6
UK heavy items next day guaranteed
World airmail
£18 (GBP)
If you require the outer packaging of your order to be intact for a gift then please add this to any special instructions as normally excess weight is removed before despatch to increase chances of a standard letter box delivery, and thus not require you to wait in to receive your order. Minimum P&P on fully boxed orders is £6
ORDERING


---
Any questions prior to ordering? - Then email: sales@bmsoftware.com.

To order, use the online

If the online [Order Form] fails for any reason or your product is not yet listed there, or you wish to print and send your order, then fill in the following, hit the [Select details] button, and copy and paste to your email program or word processor:

Now hit Ctrl+C to copy the selected text to your clipboard and then paste (Ctrl+V) it into your preferred program Make sure you read our Terms and Conditions.
CONTACT DETAILS


---
Click here for full Contact Details including postal address, additional phone lines and technical support email.

Whilst we are based in the UK we can ship most items internationally.


| | | | | | | | |
| --- | --- | --- | --- | --- | --- | --- | --- |
| | RETURN TO TOP OF PAGE | | CLOSE WINDOW | | PRINT PAGE | | HOME |