| | | |
| --- | --- | --- |
| | The World of the Holy Temple | |
Details and specifications of The World of the Holy Temple, £29.00 (GBP inc VAT). Open the world of the Second Temple in Jerusalem, one of the Wonders of the World - the most holy place for the Jewish people.. [Buy now]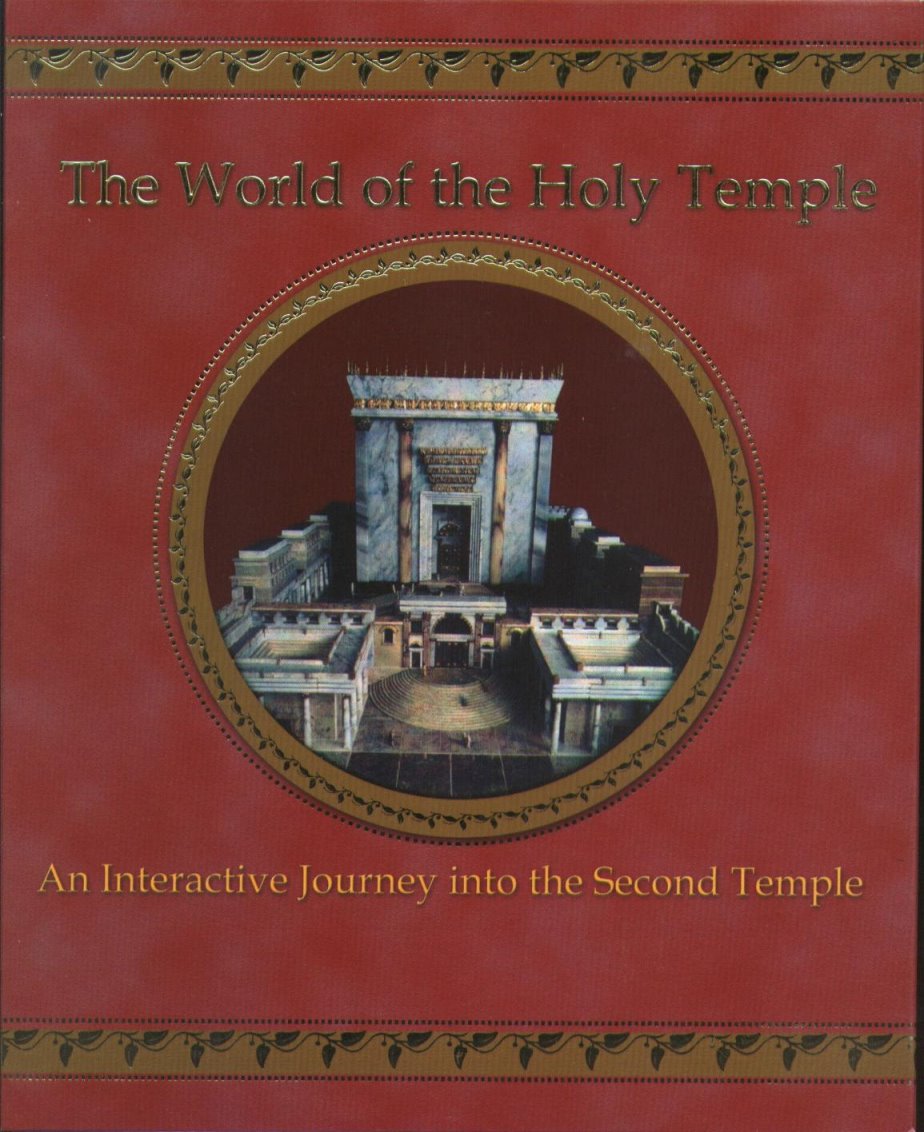 The World of the Holy Temple - An interactive journey into the Second Temple

This new interactive disk opens a vista into the world of the Second Temple in ancient Jerusalem, one of the Wonders of the World, the most holy place for the Jewish People and a spiritual centre for all nations of the world.

Based on the knowledge and material accumulated during years of research, the Temple Institute in Jerusalem in Michlalah - Jerusalem College present this interactive multimedia CD which brings the Holy Temple to life through pictures sounds, and animation, thus offering hours of leatning and fulfilling experience.

"The World of the Holy Temple" was produced as a multiple level CD suitable for youngsters as well as adults, for private use as well as in libraries and schools.

It can be used as a stand-alone product as well as an audio-visual reference tool.

SCREENSHOTS


---
None Available
REVIEWS


---
None available
SYSTEM REQUIREMENTS


---
Windows PC
Yes

Win 95/98/Me/2000/XP
PII minimum
32MB RAM
8x CD Drive
Screen resolution of 800x600 with 256 Colours
Sound card

Apple MAC
N/A
Purchase Virtual PC first
Linux
N/A
VERSIONS & ALTERNATIVES


---
The World of the Holy Temple, £29.00, Buy

Compare also:

PRICING


---
The World of the Holy Temple, £29.00, Buy.


Prices are in £GBP and include all applicable taxes (VAT etc)

P&P will be charged at "light/heavy items" rates (1/2/3 or 3/6) - click here for full Postage & Delivery Details including shipping rates within the UK, Europe and worldwide, same day and next day before midday options.

Email to check latest pricing or stock availability

Check Exchange Rates to convert UK pricing or Email us with your country and/or currency for a quote.


ORDERING


---
Any questions prior to ordering? - then email: Sales, otherwise proceed to the Order Form.

If the online Order Form fails for any reason or your product is not yet listed there, or you wish to print and send your order, then fill in the following, hit the [Select details] button below, and copy and paste to your email program or word processor:

Now hit Ctrl+C to copy the selected text to your clipboard and then paste (Ctrl+V) it into your preferred Email program or click here to launch your Email editor.
CONTACT DETAILS


---
Click here for full Contact Details including postal address, additional phone lines and technical support email.

Whilst we are based in the UK we can ship most items internationally.


RETURN TO
TOP OF PAGE

CLOSE
WINDOW

PRINT
PAGE

HOME
PAGE

TERMS AND
CONDITIONS

HELP ON USING
THIS SITE