| | | |
| --- | --- | --- |
| | The Message - Complete Old and New Testament | |
Details and specifications of The Message - Complete Old and New Testament, £19.95. Read a provokative translation of the Bible - the book was a big favourite, now available on CD ROM.. Buy The Message - Complete Old and New Testament now.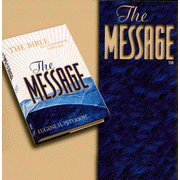 The Message is a refreshingly unique Bible-reading experience. With no formal language and no verse numbers, this Bible reads like a letter from an old friend. Because itís easier to understand, itís easier to make the connection between what youíre reading and what it means for your everyday life.

Delve into the Genesis stories of Adam and Eve, Noahís ark, Abraham, and others for a view of God dealing with manís sinning and suffering. Follow the powerful drama of the Exodus, as God uses Moses to lead the children of Israel out of Egypt and oppression. Take a time-out from the stories and see how the instructions in Leviticus cultivate attentiveness to God. Explore the book of Numbers to witness the challenges of growing up and getting along with each other as a community. Finally, join Moses in the book of Deuteronomy for his stirring, emotionally charged sermon complete with the formula for leading a holy life.

In addition to The Message Complete Old and New Testament, you also receive these other fine reference works to supplement your study of God's Word:


King James Version
GODS WORD*
Talking Strong's Greek and Hebrew Dictionary*
Torrey's Topical Textbook*
Fox's Book of Martyrs*
Hitchcock's Bible Names Dictionary*
Easton's Bible Dictionary*
Matthew Henry's Concise Commentary
Wordsearch Electronic Concordance
ZIPscript
* Free with registration

SCREENSHOTS


---
None Available
REVIEWS


---
None available
VERSIONS


---
The Message - Complete Old and New Testament, £19.95, Buy

Compare also:

SYSTEM REQUIREMENTS


---
Windows 98 / NT4.x / 2000 / ME / XP
486 Min (Pentium recommended)
CD-ROM Drive (2x required, 4x recommended)
16 Mb RAM
16 Mb Free Hard Drive space
Soundcard
Speakers
PRICING


---
The Message - Complete Old and New Testament, £19.95, Buy.


Prices include all applicable taxes

P&P will be charged at "light items" rates (1/2/3) - click here for full Postage & Delivery Details including shipping rates within the UK, Europe and worldwide, and next day before midday options.

Email to check latest pricing or stock availability

Check Exchange Rates to convert UK pricing or Email us with your country and/or currency for a quote.


ORDERING


---
Any questions prior to ordering? - then email: Sales, otherwise proceed to the Order Form.

If the online Order Form fails for any reason or your product is not yet listed there, or you wish to print and send your order, then fill in the following, hit the [Select details] button below, and copy and paste to your email program or word processor:

Now hit Ctrl+C to copy the selected text to your clipboard and then paste (Ctrl+V) it into your preferred program
CONTACT DETAILS


---
Click here for full Contact Details including postal address, additional phone lines and technical support email.

Whilst we are based in the UK we can ship most items internationally.


RETURN TO
TOP OF PAGE

CLOSE
WINDOW

PRINT
PAGE

HOME
PAGE

TERMS AND
CONDITIONS

HELP ON USING
THIS SITE