Details and specifications of TES's Ligature Premium OCR, £1039.00 (GBP inc VAT RRP £1249.00). Full-featured standalone English-Hebrew OCR program.. [Buy now] or call us on 0870 766 3699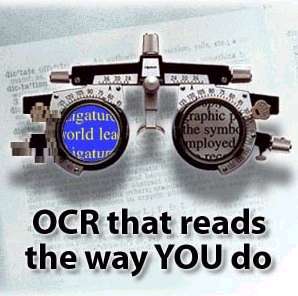 TES Ligature Premium OCR

Note: To OCR Hebrew words or texts requires Windows with Hebrew support. Windows 95/98 Hebrew enabled or Windows 2000 with Hebrew support.

Ligature® - OCR is a full-featured 32-bit standalone OCR software program designed for users who demand consistently accurate OCR results. Powerful, flexible and efficient, Ligature-OCR is easy to use and capable of processing large quantities of text. It scans the document, analyzes the page layout, recognizes the characters and outputs the text to a variety of file formats while retaining text and document attributes. Your saved file is now editable text, ready to take advantage of the options of your chosen word processor, spreadsheet or database application.

This advanced program incorporates numerous specialized features including: support for all Hebrew, English and Western European languages, an editor with pop-up verifier and multilingual spell checkers (Latin only), trainable mode, batch processing, image rotation, 20° auto deskewing, manual or automatic page analysis, and deferred processing.

In addition to outstanding accuracy and a robust feature set, Ligature-OCR offers a modular design, providing the user and the developer with a great deal of flexibility. Ligature-OCR consists of several standalone modules that can be operated separately and are integrated under one simple shell. This modular approach enables the user to repeat certain operations without having to rescan the document.

Scanning Module - Input

Ligature-OCR supports the leading image file formats and desktop scanners, including Twain and HP AccuPage, as well as their optional automatic document feeders. Ligature-OCR supports full control of scanner brightness and contrast; it also enables the user to customize the size of the page to be scanned, allowing for non-standard page sizes. This option is especially useful to skip running headings and other page areas. Ligature-OCR also includes 400 dpi scanning capability.

Page Decomposition Module - Analyze

Ligature-OCR features automatic page analysis that identifies columns and tables, distinguishes between text and graphics, and ignores noise areas.
The user can choose among the following four options:


Full Automatic Decomposition - Ligature-OCR selects the text areas and defines their proper reading sequence prior to the recognition stage.
Force One Column - This option is designed for the reading of tabular information.
Columns - This option is used for pages consisting of two or more columns (e.g., newspapers).
Predefined Zones - Ligature-OCR offers graphic tools with which the user can mark specific areas of the page for reading, deletion and inversion. These areas can be stored for multiple template reading, especially useful with pages of similar layout.
Recognition Module - OCR

Ligature-OCR features a unique and powerful engine for Omnifont reading that is based on Stochastic Algorithms and Neural Networks. Ligature-OCR reads Hebrew, English and all Western European character sets (including most monetary symbols), without user intervention. Ligature-OCR also has features for handling mixed Hebrew and English text in the same document as well as kerned pairs, smeared characters and broken letters. This advanced OCR engine is also designed for recognizing 200 dpi faxes with a special option for degraded text and dot matrix/draft printing.

Users interested in reading documents with special typefaces or non-Latin characters can further benefit from the Customize option. This option enables the user to fully train Ligature-OCR to recognize non-standard and highly stylized fonts such as Rashi, Gothic, or Greek. The Customize option can also be used to train languages which are Windows supported that are not listed in the Ligature Omnifont language list.

Ligature-OCR saves time, typically required for post-OCR reformatting, by retaining margins, indents, paragraph rulers, centering and justification, tabulation, line spacing, point size, bold, and underline. Ligature-OCR also features a Pop-Up Verifier in its Editor Window which allows for easy proofing of documents. By simply clicking on any questionable character or word, the Pop-Up Verifier enables the user to compare the recognized text to the original scanned image, which appears simultaneously on the background of the screen. Once saved in the file format of choice, the OCRed text can be edited with the full power of the user selected application.

Batch Processing

Ligature-OCR supports two modes of deferred processing: (i) scanning documents and saving them as image files for subsequent OCR, and (ii) scanning and reading documents, while saving them as native Ligature-OCR files for subsequent proofreading with the Pop-Up Verifier. Ligature-OCR also supports Continuous Reading, a feature which enables the user to scan a group of documents either manually or by use of an Automatic Document Feeder, perform Analysis and OCR and then save and name the files automatically.

Ligature-OCR provides several options for simplifying the naming of files while using the batch processing mode, for example, when scanning two-sided documents. The customization of page size improves efficiency by hiding running headers or footers. In Append mode, numerous pages can be saved under one file name. Batch processing also supports the ability to predefine reading zones.

Features and Enhancements
Setting OCR Options for each Text Box
Numbers Only Recognition
Page Number Display in Append Mode
Improved Attribute Retention
Improved Recognition of 200 dpi Faxes
Improved Ligature File Format
Reading of Low Resolution TIFF or PCX files (100 x 200 dpi)
User Dictionary (Latin only)
Additional Output Format: MS Word for Windows 6.0
Selecting File Format within"Save As..." Dialog Box
Improved Handling ofComplex Tables
New Features & Enhancements in Version 4.0:
Improved Graphics Toolbar
Automatic recognition of mixed Hebrew/English text
Auto Flip - enables recognizing page regardless of scanning orientation
Improved file management system
Improved Batch processing
Improved retention of table format
Improved Latin recognition
Year 2000 compliance


Our Product Ref: TESLPO
SCREENSHOTS


---
None Available
REVIEWS


---
None available
SYSTEM REQUIREMENTS


---
| | | | |
| --- | --- | --- | --- |
| | Windows PC | Yes | Windows 95 and higher |
| | Apple MAC | N/A | Purchase Virtual PC first |
| | Linux | N/A | |
VERSIONS, OPTIONS & ALTERNATIVES


---
| | | | | | |
| --- | --- | --- | --- | --- | --- |
| TES | Ligature Premium OCR | £1039.00 | (RRP £1249.00) | [TESLPO] | Buy |
PRICING


---
| | | | | | |
| --- | --- | --- | --- | --- | --- |
| TES | Ligature Premium OCR | £1039.00 | (RRP £1249.00) | [TESLPO] | Buy |
Prices are in £GBP and include all applicable taxes (VAT etc)

P&P will be charged at "light/heavy items" rates (1/2/3 or 3/6) - click here for full Postage & Delivery Details including shipping rates within the UK, Europe and worldwide, same day and next day before midday options.

Email to check latest pricing or stock availability

Check Exchange Rates to convert UK pricing or Email us with your country and/or currency for a quote.


ORDERING


---
Any questions prior to ordering? - then email: Sales or call us on 0870 766 3699, otherwise proceed to the Order Form.

If the online Order Form fails for any reason or your product is not yet listed there, or you wish to print and send your order, then fill in the following, hit the [Select details] button below, and copy and paste to your email program or word processor:

Now hit Ctrl+C to copy the selected text to your clipboard and then paste (Ctrl+V) it into your preferred Email program or click here to launch your Email editor.
CONTACT DETAILS


---
Click here for full Contact Details including postal address, additional phone lines and technical support email.

Whilst we are based in Norwich, Norfolk in the UK we can ship most items internationally.


RETURN TO
TOP OF PAGE

CLOSE
WINDOW

PRINT
PAGE

HOME
PAGE

TERMS AND
CONDITIONS

HELP ON USING
THIS SITE