Details and specifications of TES's Dagesh Pro OCR, £399.00 (GBP inc VAT RRP £349.00). The Only Affordable, Accurate, English-Hebrew OCR Solution.. [Buy now] or call us on 0844 808 3699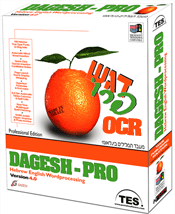 TES Dagesh Pro OCR

NOTE: Dagesh Pro OCR is an add-on to the Dagesh Pro Word Processing system. Dagesh Pro OCR requires Dagesh Pro Wordprocessor to be installed on the computer to which it is being installed.



Dagesh Pro OCR (Optical character recognition)gives the user the ability to translate images of characters (faxes, books, magazines, newspaper articles...)into editable text. OCR is used by writers, lawyers, teachers, students, publishers, engineers, real estate brokers, governmental staffs, journalists - anybody who wants to save time and increase accuracy by taking a printed document and putting some or all of it into their computer in editable form without having to do the retyping themselves.

Dagesh Pro OCR is the fastest, easiest way to turn paper documents in various languages including Hebrew, into computer files you can edit. Based on the Ligature OCR engine, the product's superior accuracy will allow you to eliminate retyping, saving time and increasing productivity. Although Dagesh Pro OCR is the most accurate way to turn English-Hebrew paper documents into editable computer files, its value extends beyond the paper world. The seamless integration with Dagesh Pro - the number one multilingual wordprocessor - allows you to work with files in ways that were not previously possible. For creating, converting, editing and distributing digital documents in multiple languages including Heberw, Dagesh Pro OCR is the onlysolution.

Once you become familiar with Dagesh Pro OCR, you'll find that it has an amazing array of tools designed to streamline OCR work and give you really extensive control over when and how it's carried out. But the main thing to remember is that it's fast, it's accurate, it's trainable, and it's easy to use.



Learn Biblical Hebrew online with teachers in Israel
Languages included: Danish, Dutch, English US, English UK, Finnish, French, German, Hebrew, Italian, Norwegian, Portuguese, Spanish, Swedish, Yiddish
Automatically Identifies Columns and Tables
Automatically Distinguishes between text and graphics
Automatically Ignores Noise Areas
Font Trainer
Spell-Checker (Hebrew-English one pass)
Text Analysis
Zone Selection
Retains many text and document attributes
Connects directly to the scanner and scanner software without leaving the program
Supports the leading image file formats and desktop scanners, including Twain and HP AccuPage
Can recognize mixed English and Hebrew texts in one pass.
Saves Typing Time
Up to 99.9% Accurate
Seamless integration into Dagesh Pro Wordprocessor


Our Product Ref: TESPCR
SCREENSHOTS


---
None Available
REVIEWS


---
None available
SYSTEM REQUIREMENTS


---
| | | | |
| --- | --- | --- | --- |
| | Windows PC | Yes | Windows 95, 98, 2000, XP (may work on Vista, 7, 8 under XP compatibility mode) |
| | Apple MAC | N/A | Purchase Virtual PC first |
| | Linux | N/A | |
VERSIONS, OPTIONS & ALTERNATIVES


---
| | | | | | |
| --- | --- | --- | --- | --- | --- |
| TES | Dagesh Pro OCR | £399.00 | (RRP £349.00) | [TESPCR] | Buy |
PRICING


---
| | | | | | |
| --- | --- | --- | --- | --- | --- |
| TES | Dagesh Pro OCR | £399.00 | (RRP £349.00) | [TESPCR] | Buy |
Prices are in £GBP and include all applicable taxes (VAT etc)

P&P will be charged at "light/heavy items" rates (1/2/3 or 3/6) - click here for full Postage & Delivery Details including shipping rates within the UK, Europe and worldwide, same day and next day before midday options.

Email to check latest pricing or stock availability

Check Exchange Rates to convert UK pricing or Email us with your country and/or currency for a quote.


ORDERING


---
Any questions prior to ordering? - then email: Sales or call us on 0844 808 3699, otherwise proceed to the Order Form.

If the online Order Form fails for any reason or your product is not yet listed there, or you wish to print and send your order, then fill in the following, hit the [Select details] button below, and copy and paste to your email program or word processor:

Now hit Ctrl+C to copy the selected text to your clipboard and then paste (Ctrl+V) it into your preferred Email program or click here to launch your Email editor.
CONTACT DETAILS


---
Click here for full Contact Details including postal address, additional phone lines and technical support email.

Whilst we are based in Norwich, Norfolk in the UK we can ship most items internationally.


RETURN TO
TOP OF PAGE

CLOSE
WINDOW

PRINT
PAGE

HOME
PAGE

TERMS AND
CONDITIONS

HELP ON USING
THIS SITE