Details and specifications of Science Explorer, £19.99. A very highly rated collection of interactive software titles from DK. Aimed at children of six years and older and supports Keystage 1 & 2. Buy Science Explorer now.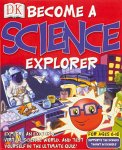 Why are bubbles round? Why are flowers colourful? What is air? Discover the answers to these and hundreds of other amazing science questions. You will soon find that science principles are at work in everything around you, from rockets in space, to bubbles in the sink.

Friendly guide Fizz will take you on an interactive learning journey involving 8 different activites, 20 experiments to print off and try, brilliant graphics and 8 fun worksheets! You can also take the ultimate science test in the Bright Sparks Quiz! In no time you will be a true Science Explorer!

Key Features:


Dazzling animations and 3D effects make learning fun
Interactive games and activities help to develop science skills
Scientific observations can be recorded in a secret personal workbook
Easy-to-use search engines and fact boxes
Virtual stickers and badges to collect
SCREENSHOTS


---
Use you back button to return to this page after viewing the screenshots.

Screenshot 1 | Screenshot 2
REVIEWS


---
None available
VERSIONS


---
Science Explorer, £19.99, Buy

Compare also:
DK Become a World Explorer, £19.99
DK Become a British Isles Explorer, £19.99
DK Become a History Explorer, £19.99
DK Become a Human Body Explorer, £19.99

SYSTEM REQUIREMENTS


---
Windows 95/98/NT4/2000/XP
16MB for 95 and 98
32MB for 2000
256 colour screen
CD ROM Drive
16 bit sound card
PRICING


---
Science Explorer, £19.99, Buy.


Prices include all applicable taxes

P&P will be charged at "light/heavy items" rates (1/2/3 or 3/6) - click here for full Postage & Delivery Details including shipping rates within the UK, Europe and worldwide, and next day before midday options.

Email to check latest pricing or stock availability

Check Exchange Rates to convert UK pricing or Email us with your country and/or currency for a quote.


ORDERING


---
Any questions prior to ordering? - then email: Sales, otherwise proceed to the Order Form.

If the online Order Form fails for any reason or your product is not yet listed there, or you wish to print and send your order, then fill in the following, hit the [Select details] button below, and copy and paste to your email program or word processor:

Now hit Ctrl+C to copy the selected text to your clipboard and then paste (Ctrl+V) it into your preferred program
CONTACT DETAILS


---
Click here for full Contact Details including postal address, additional phone lines and technical support email.

Whilst we are based in the UK we can ship most items internationally.


RETURN TO
TOP OF PAGE

CLOSE
WINDOW

PRINT
PAGE

HOME
PAGE

TERMS AND
CONDITIONS

HELP ON USING
THIS SITE