| | | |
| --- | --- | --- |
| | Panda Antivirus Platinum 7 | |
Details and specifications of Panda Antivirus Platinum 7, £40. Description. Buy Panda Antivirus Platinum 7 now.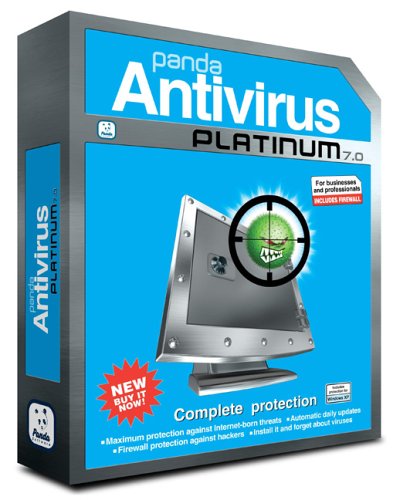 Email and the internet connect you to world, but unfortunately these can also open your system to attack. Panda Antivirus Platinum seals off the entry points that viruses and hackers can use to access your computer, including e-mail, news groups and the internet. It brings together the most innovative antivirus tools as well as a series of additional security features, including a firewall and script blocker, to offer maximum protection against viruses, hackers and all other Internet-borne threats.

Panda scans and disinfects your system, eliminating viruses and protecting the integrity of your data. Panda not only protects you from the entry of viruses but also prevents viruses from getting out and infecting other users. Panda Antivirus Platinum combines ease of use and power into the ultimate in protection. Its state-of-the-art interface, many configuration options and numerous automatic processes eliminate any idea that antiviruses or firewalls are complicated and hard to use.
Eliminates all types of viruses
Able to sniff out new and unknown viruses, scripts, macros, executables
Protects against hackers: includes firewall protection
Completely automatic daily updates against new viruses
Maximum speed and stability
Scans and eliminates viruses automatically
Panda Software products and technology are recognized by ICSA and Checkmark
SCREENSHOTS


---
None Available
REVIEWS


---
Use your back button to return to this page after viewing the reviews. If the back button is greyed out then you can safely close the window and this one will be behind it.

Review from About.com giving a 4 out of 5 rating or Reviews
VERSIONS


---
Panda Antivirus Platinum 7, £40, Buy

Compare also:

SYSTEM REQUIREMENTS


---
Windows XP/2000 Workstation/NT 4.0 Workstation and Windows 95/98/Me
Minimum hard drive space 45MB
Minimum processor type Intel Pentium 150 MHz
Minimum RAM size 64 MB
Mouse
PRICING


---
Panda Antivirus Platinum 7, £40, Buy.


Prices include all applicable taxes

P&P will be charged at "light/heavy items" rates (1/2/3 or 3/6) - click here for full Postage & Delivery Details including shipping rates within the UK, Europe and worldwide, and next day before midday options.

Email to check latest pricing or stock availability

Check Exchange Rates to convert UK pricing or Email us with your country and/or currency for a quote.


ORDERING


---
Any questions prior to ordering? - then email: Sales, otherwise proceed to the Order Form.

If the online Order Form fails for any reason or your product is not yet listed there, or you wish to print and send your order, then fill in the following, hit the [Select details] button below, and copy and paste to your email program or word processor:

Now hit Ctrl+C to copy the selected text to your clipboard and then paste (Ctrl+V) it into your preferred program
CONTACT DETAILS


---
Click here for full Contact Details including postal address, additional phone lines and technical support email.

Whilst we are based in the UK we can ship most items internationally.


RETURN TO
TOP OF PAGE

CLOSE
WINDOW

PRINT
PAGE

HOME
PAGE

TERMS AND
CONDITIONS

HELP ON USING
THIS SITE