Details and specifications of Maths Blaster Ages 4-6, £9.99. Get your child off to a good start in mathematics, this interactive software introduces basic concepts, such as counting, adding, subtracting and number lines.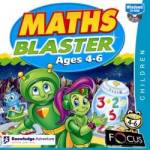 Maths Blaster Ages 4-6
Kid Blasternaut and the Blaster Pals are launching their first maths mission, and they need your child to make their crew complete. On this magical trip, stops will be made to build a rocket out of shapes, unravel the mystery of the Marble Maze and count Countelonia's jewel-stealing Pesters. By the time the mission is complete your child will master essential early maths skills, build a solid foundation for basic maths abilities … and be an intergalactically recognised maths hero.

WHAT'S INSIDE: -


Step-by-step approach builds essential maths and thinking skills.
Ten activities and three levels of difficulty grow with your child.
Printable award certificates motivate and reward children.
Print kit includes over 30 pages of fun activities to encourage learning away from the computer.
Number songs reinforce mathematical concepts.
Interactive number line is your child's first calculator.


PARENT GUIDE

Master over 20 essential skills including: -


Numbers and quantities, counting up to 20.
Addition and subtraction.
Recognition of geometic shapes and colours.
Identifying sets and numbers.
Completing patterns.
Concepts of greater than and less than.
Understanding number sentences.
Estimation.
Using a number line.
SCREENSHOTS


---
None Available
REVIEWS


---
None available
VERSIONS


---
Maths Blaster Ages 4-6, £9.99

Compare also:
MathsBlaster Ages 6-9, £9.99
MathsBlaster Ages 9-12, £9.99

SYSTEM REQUIREMENTS


---
Windows® 95/98 or Windows® ME only
CPU Type Pentium 90 or faster
CD-ROM Speed 4x or faster
Hard Drive Space 5Mb
Memory 16Mb (32Mb recommended)
Printer Recommended (required to print activity workbook)
Graphics 640x480x256 colours.
Audio 16bit SoundBlaster or 100% compatible
PRICING


---
Maths Blaster Ages 4-6, £9.99


Prices include all applicable taxes

P&P will be charged at "light items" rates (1/2/3 etc ) - see below

Email to check latest pricing or stock availability

Check Exchange Rates to convert UK pricing
Postage, Packing & Insurance Rates
1
UK light items (2nd class)
£3 (GBP)
2
UK light items insured (1st class) Any orders over £100
Customers may choose this rate on light items under £100 to speed delivery
£6 (GBP)
3
UK heavy items parcelpost
UK light items next day guaranteed
Europe light items
£9 (GBP)
4
World surface mail
£12 (GBP)
5
Europe heavy items
£15 (GBP)
6
UK heavy items next day guaranteed
World airmail
£18 (GBP)
If you require the outer packaging of your order to be intact for a gift then please add this to any special instructions as normally excess weight is removed before despatch to increase chances of a standard letter box delivery, and thus not require you to wait in to receive your order. Minimum P&P on fully boxed orders is £6
ORDERING


---
Any questions prior to ordering? - Then email: sales@bmsoftware.com.

To order, use the online

If the online [Order Form] fails for any reason or your product is not yet listed there, or you wish to print and send your order, then fill in the following, hit the [Select details] button, and copy and paste to your email program or word processor:

Now hit Ctrl+C to copy the selected text to your clipboard and then paste (Ctrl+V) it into your preferred program Make sure you read our Terms and Conditions.
CONTACT DETAILS


---
Click here for full Contact Details including postal address, additional phone lines and technical support email.

Whilst we are based in the UK we can ship most items internationally.


| | | | | | | | |
| --- | --- | --- | --- | --- | --- | --- | --- |
| | RETURN TO TOP OF PAGE | | CLOSE WINDOW | | PRINT PAGE | | HOME |