| | | |
| --- | --- | --- |
| | Language Engineering-LEC Power Translator 9 Global | |
| | | | | |
| --- | --- | --- | --- | --- |
| | | Details and specifications on: LEC Power Translator 9 Global £79, RRP £89.95 GBP inc VAT. Power Translator Global is an advanced machine translation software capabable of translating English to/from Brazilian, French, German, Italian, Portuguese, Spanish, and Russian. Excellent language translation quality at a lower price than its predecessor, the renowned Globalink/L&HSP Power Translator Pro 7/8. This program is an improved version of Power Translator Pro 8 and is distributed in the UK by BMSoftware. BMSoftware ship this product worldwide. [Buy] Power Translator 9 Global now. | | |


Compare the nearest equivalent product: LEC Translate European Business which includes 2-5 additional languages but at higher pricing, or, a cheaper product: Transparent Language Easy Translator 4.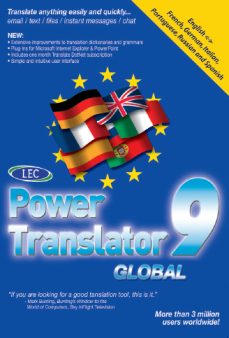 New Features:
Extensive improvements to translation dictionaries and grammars
Plug-Ins for Microsoft Internet Explorer & PowerPoint
Includes one month Translate DotNet subscription
Simple and intuitive user interface

LEC Power Translator 9 Global produces draft usable translations of foreign language documents, e-mail, Web pages and more. Integrates with Microsoft Office. It is a fully-featured tool for translating text in:
French to/from English
German to/from English
Italian to/from English
Portuguese/Brazilian to/from English
Spanish to/from English
Russian to/from English
Gives sentence-by-sentence translation from idiomatic databases.

Key Features:
Accurate
Quick - translate as you type
Easy – simple, user-friendly interface
Full integration into Microsoft Office 2000 Word/Excel/Outlook/PowerPoint toolbar for quick translation
Bi-directional translation
Instant file translation (text and HTML)
Instant email translation
Instant Web Translation
Editable technical dictionaries; Standard, Business, Legal, Medical and Computing
Single or batch translations
Translations made fast, accurate and easy!
Based on machine translation technology used by more than three million customers worldwide, Language Engineering's Power Translator 9 Global offers easy access to English, French, German, Italian, Portuguese, Russian and Spanish. If you can type, paste, drag or open a file, Europe's leading languages are now at your command!

Fast
Instantly translate documents, emails, web pages or messages without even having to click a button - just cut and paste any text.

Easy
Whether using Microsoft Word, Excel or Internet Explorer, simply select the translation language you want to view. For larger files, websites or multi-document folders, the drag-and-drop features allow you to translate to and from the language of choice.

High Quality
The best automatic translation available, Power Translator 9 Global features customised translation engines for each language. Ensuring you get usable, understandable translations each time.

Flexible
Create personal dictionaries of your own terms and translations. Then access them, along with the specialised Power Translator dictionaries.

Power Translator 9 Global provides instant translation of your documents with accuracy, clarity, and readability.

Power Translator 9 Global has five main user interfaces: TextTrans™, FileTrans™ , Translation Mirror™, QuickTrans™and a Dictionary Browser.

TextTrans™ provides immediate translation of text - you don't even have to click a button.

FileTrans™ translates individual files or in batches translation of files or folders, including HTML. Drag a file or directory icon onto the FileTrans™ window and the translation is automatic.

Translation Mirror™ identically shows you any window on your desktop in another language, in real time. Dictionary Browser lets you look up words, create and edit in any of the dictionaries.

QuickTrans™ creates instant translation as you type. When you work with instant messages, chats, emails, and forms, simply type in your language and have it entered in another.



Manufacturer's Product Code: Our Product Ref: PT9GLO



SCREENSHOTS


---
Use you back button to return to this page after viewing the screenshots.

Screenshot 1 | Screenshot 2 | Screenshot 3 | Screenshot 4
REVIEWS


---
Reviews, tests and comparisons of translation software: Review by pocket-lint SCORE: 7/10 READER SCORE: 8.9/10
"...Translation Mirror is certainly the best application for the modern internet. Fire up the site to be translated, start this application, pick the destination language, and it will translate the original page with a higher degree of accuracy than Google's attempts when you search and come across sites not written in your mother tongue..." (http://www.pocket-lint.co.uk/fullreview.php?reviewId=466)

Review by Computer Buyer, ISSUE 159, August 2004. 4 out of 6
"...Power Translator makes a good job of translating idiomatic phrases to and from English...Power Translator converted phrases into the target language in a manner that obscures the original meaning far less than, say, Google's translation function...If you need to read lots of foreign-language documents, Power Translator will save you lots of hassle..." (http://www.computerbuyer.co.uk/buyer/reviews/59792/language-engineering-power-translator-pro-8.html)
VERSIONS


---
LEC Power Translator 9 Global is available in a combined package containing the six language pairs outlined above.
Version 7 or 6.4 may still be available at a reduced price (see Pricing)
We also stock:
LogoMedia Translate European Personal, £249
LogoMedia Translate European Business, £429
LogoMedia Translate European Pro, £599
Easy Translator 4.0 at £39.99 which is a more basic product translating into 5 European languages as above, without Russian.
Systran Professional Standard 5 English-European Language Pack, £299.00

We also stock language learning programs and language dictionary CDRoms, e.g.:
Collins Intense Language Office - English - French, £29.99
OUP Oxford French Dictionary, £49.99
SYSTEM REQUIREMENTS


---
Windows 98, ME, 2000 or XP
Minimum of 64 MB RAM
Minimum 190 MB disk space
Internet connection
CD-ROM drive
FAQs (frequently asked questions) / TECHNICAL SUPPORT


---
General Support
Computer software general tips & tricks, maintenance, troubleshooting

LEC Support
Software manufacture or distributor own support and frequently asked questions pages

Power Translator Support
BMSoftware technical support for LEC Power Translator

Alternatively email support or phone 0871 560 3699 (calls cost no more than 10p/minute within the UK)
ARTICLES & LINKS


---
Further links to articles and information on translation software

Articles
Articles on translation software

PRICING


---
LEC Power Translator 9 Global, £79, Buy.

Approximate foreign currency pricing USD $149, EUR €110, CAD$ 169 typical airmail delivery to USA approx. $20.

LEC Power Translator 9 Global licenses 5-49, £71.10 ea
LEC Power Translator 9 Global licenses 50-124, £63.20 ea (call for greater quantities)

LEC Power Translator 9 Global upgrade from 8, £54.40
LEC Power Translator 9 Global upgrade from 7, £59.25
LEC Power Translator 9 Global upgrade from 6, £69.13

(original CD, manual, serial no# must be returned with order)
L&H Power Translator Pro 7, £39 may also still be available for those requiring Japanese or Voice features but may not be fully compatible with Windows XP
Globalink Power Translator Pro 6.4, £19 may also still be available for those on a budget

Prices include all applicable taxes

P&P will be charged at "light items" rates - click here for full Postage & Delivery Details including shipping rates within the UK, Europe and worldwide, and next day before midday options.

Email to check latest pricing or stock availability

Check Exchange Rates to convert UK pricing or Email us with your country and/or currency for a quote.


ORDERING


---
Any questions prior to ordering? - then email: Sales, otherwise proceed to the Secure Order Form.

If the online Order Form fails for any reason try our backup Order Form, or you wish to print and send your order, then fill in the following, hit the [Select details] button below, and copy and paste to your email program or word processor:

Now hit Ctrl+C to copy the selected text to your clipboard and then paste (Ctrl+V) it into your preferred program
CONTACT DETAILS


---
Click here for full Contact Details including postal address, additional phone lines and technical support email.

Whilst we are based in the UK we can ship most items internationally.


RETURN TO
TOP OF PAGE

CLOSE
WINDOW

PRINT
PAGE

HOME
PAGE

TERMS AND
CONDITIONS

HELP ON USING
THIS SITE