Details and specifications of Accordance, From £39. A extensive program for MAC and WINDOWS users. No other Bible software (on any platform) gives you so many ways to explore the Bible. The complete library has over 180 compatible titles - which means that you can get exactly what you want, without having to buy titles you don't.. Buy Accordance now.


Coming Soon!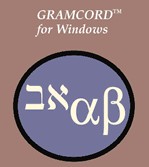 Widely recognized as "the Cadillac of grammatical Bible software" -- Gerald L. Stevens, Journal of the Evangelical Theological Society, Accordance continues to expand its powerful search capabilities and its library of scholarly and popular texts and tools. Gramcord is a non-profit organisation.

Accordance offers the most advanced features available anywhere!

Position your cursor over a word to see the asociated information. Combine words, phrases, Strong's numbers, wildcards, and commands to find exactly what you're looking for. Construct a complex grammatical search graphically and analyse its results. Search your entire library of Bible texts, commentaries, and study aids in a single pass. Create your own 2-D and 3-D maps with the Bible Atlas. No other Bible software -- on any platform -- gives you so many ways to explore the text of the Bible.

Accordance is remarkably easy to use.

The Search window contains everything you need to search and display the text of the Bible. Several Bible texts can be displayed side-by-side in the same window, reducing window clutter and confusion. An Amplify palette gives you instant access to every book in your library, so that a wealth of information is always just a mouse-click away. And the interactive Accordance Tutorial gets you up and running with Accordance both quickly and easily.

Accordance offers the best selection of Bible texts and study aids available for the Macintosh. See the Products page or study the Master List of CDs and modules.

There are now more than 180 Accordance-compatible titles to choose from, with many more on the way. These include:


The GRAMCORD original language texts with advanced lexical and grammatical information attached to each word.
Several Greek and Hebrew lexicons.
High-quality commentaries including the Expositor's Bible Commentary and Keil & Delitzsch.
Popular Study Bibles such as Ryrie's Study Bible, the NIV Study Bible, and Dake's Study Bible.
Great classic works like Calvin's Commentaries (complete!), Luther's Table Talk, Pascal's Pensees, Spurgeon's Morning and Evening, Nave's Topical Bible, and numerous others.
Multi-volume works include the writings of the Church Fathers (all 38 volumes!) and the prestigious Anchor Bible Dictionary.
These quality resources are available in a variety of affordable packages, so you that you can get exactly what you want without having to pay for titles you don't.

There are many 'bundles' available for Windows, all of which contain the 'Base Package' which comprises the following...
GRAMCORD Greek NT (Nestle-Aland 27th edition with GRAMCORD parsed database)
Bible Companion Search Engine
UBS Greek Dictionary
NAS Greek/Hebrew dictionaries with word definitions. (Includes Greek or Hebrew word underlying each NAS word, its English transliteration, the root source of the word, and a list of other NAS English words translating that word with number of occurrences of each indicated.)
Wheeler Greek Syntax Notes
Wheeler Hebrew Syntax Notes
New American Standard Update Bible (1995 edition. Also called NAS95 or NASU.)
American Standard Bible (1907)
NAS Strong's Concordance system
King James Bible
KJV Strong's Concordance with Greek/Hebrew Dictionaries
NASU (NAS95) notes and cross references. (The full NASU margin notes with margin cross references. All cross references are hyper-linked for easy access.)
Strong's numbers allowing hyperlink jumps to the NAS Greek/Hebrew dictionaries
Robertson's Word Pictures
Naves Topical
Matthew Henry Commentaries
Greek Textus Receptus
German Luther Bible
Spanish RV
Young's Literal Translation
Darby's Translation
GRAMCORD Greek NT & NAS95 Scholar's Bundle: only £99 A great starter bundle for student's, pastors, home-schoolers, and includes the GRAMCORD Greek New Testament with the NAS95, KJV, ASV Bibles, UBS Greek Dictionary, NAS Greek Dictionary, Wheeler Syntax Notes (and "freebies" which interest some users: Robertson's Word Pictures, NAS & KJV Strong's Concordance Systems with Greek/Hebrew Dictionaries, Naves Topical, Greek Majority Text, and more). See list of GRAMCORD "base package" above for the complete list of contents of this economical starter bundle.

GRAMCORD GNT/HMT/LXX Scholar's Bundle: £178

Includes complete GRAMCORD Greek NT base package (described above) plus:


GRAMCORD Hebrew Masoretic Text
(Biblia Hebraica Stuttgartensia with Revised Westminster Hebrew Morphology)
Princeton Edition Expanded BDB Hebrew Lexicon
GRAMCORD LXX with Rahlf's Septuagint (LXX with Univ. of Pennsylvania/CCAT LXX Morphology) [GRAMCORD LXX includes alternate Theodotian readings!]
LEH Septuagint Lexicon [a GRAMCORD Institute exclusive; a TRUE Septuagint lexicon, not a classical Greek approximation]
GRAMCORD GNT/HMT/LXX Scholar's Special Bundle: £195

Includes all aforementioned modules plus TWO more Bible translations of the user's choice. (Select from: NIV, RSV, NRSV, NKJV -- and enjoy a total of 7 Bibles. All GRAMCORDs ship with the NAS95 (New American Standard Update of 1995) but you may also request the NASB of 1977. Some users have done scripture memory from the 1977 edition and wish to include it.)

Add the The Louw & Nida Semantic Domain Greek Lexicon (for the Greek New Testament) to any of the aforementioned bundles for £25 -- or find it included AND JOINED BY THREE MORE BIBLES AND A SPECIAL BONUS when you order the Ultimate Bundle:

GRAMCORD GNT/HMT/LXX Ultimate Bundle: £235

Adds The Louw & Nida Semantic Domain Greek Lexicon (for the Greek New Testament) and all associated Bible modules (10) and all associated lexicons/dictionaries (including Louw/Nida) -- plus a free bonus program or textbook! See below for the ULTIMATE BUNDLE BONUS OFFER.

GRAMCORD Greek NT/LXX Bundle: £155

Similar to the £178 Scholar's Bundle but no Hebrew MT module or BDB Hebrew Lexicon. (You still have the Hebrew dictionaries that are included in the NAS and KJV Strong's Concordance systems. If you don't plan to do exegetical work in Hebrew -- or you wish to postpone that purchase till later -- this Greek NT/LXX Bundle is an excellent value. (You may order the GRAMCORD Hebrew MT unlocking password at a later date for just £55.)

Ultimate Bundle Bonus Offer

For a limited time, anyone ordering a qualifying GRAMCORD FOR WINDOWS Ultimate Bundle may request at no additional cost one of the following:

GRAMCORD Lite (for Palm & WindowsCE/Pocket PC)


GreekMaster with Dr. Gleason Archer
Hammoreh Hebrew Grammar Tutorial
A Handbook of Grammatical Diagramming (Based on Philippians)
SCREENSHOTS


---
None Available
REVIEWS


---
None available
VERSIONS


---
Accordance, From £39, Buy

Compare also:

SYSTEM REQUIREMENTS


---
The Macintosh operating system must be version 7.1 or higher.

Accordance is available in a native version for the PowerPC. When the program is installed, the installer will select and install the correct version for the computer. A minimum of 12 megabytes of memory are recommended on the PowerPC.

Hard disk space
Accordance takes a minimum of 10 megabytes of hard disk space if all the texts and tools are accessed directly from the CD-ROM. Each Bible text requires at least 4 megabytes of hard disk space if copied to the hard drive, although some grammatically tagged texts and some of the tools modules require much more space.

Bible Atlas: The minimum requirements for the two dimensional Atlas are:


any 68030, 68040, or PowerPC Macintosh
at least 8 megabytes of memory, 12 megabytes of memory are recommended
System 7, OS 8 or above
CD-ROM drive and color monitor recommended
only 5 megabytes of hard disk space are required with access to the CD-ROM.
To run the three dimensional maps the additional minimum requirements are:


a PowerPC Macintosh with QuickDraw 3D
at least 16 megabytes of memory (with virtual memory), otherwise 24 megabytes of memory are recommended
at least 50 megabytes are needed if the essential files are copied to the hard drive or a removable drive in order to run the 3D maps without the CD-ROM.
PRICING


---
Accordance, From £39, Buy.


Prices include all applicable taxes

P&P will be charged at "light/heavy items" rates (1/2/3 or 3/6) - click here for full Postage & Delivery Details including shipping rates within the UK, Europe and worldwide, and next day before midday options.

Email to check latest pricing or stock availability

Check Exchange Rates to convert UK pricing or Email us with your country and/or currency for a quote.


ORDERING


---
Any questions prior to ordering? - then email: Sales, otherwise proceed to the Order Form.

If the online Order Form fails for any reason or your product is not yet listed there, or you wish to print and send your order, then fill in the following, hit the [Select details] button below, and copy and paste to your email program or word processor:

Now hit Ctrl+C to copy the selected text to your clipboard and then paste (Ctrl+V) it into your preferred program
CONTACT DETAILS


---
Click here for full Contact Details including postal address, additional phone lines and technical support email.

Whilst we are based in the UK we can ship most items internationally.


RETURN TO
TOP OF PAGE

CLOSE
WINDOW

PRINT
PAGE

HOME
PAGE

TERMS AND
CONDITIONS

HELP ON USING
THIS SITE