Details and specifications on: Fred Millers Commentaries - The Great Isaiah Scroll, £19.99. A commentary on one of the Dead Sea Scrolls - the Great Isaiah Scroll, with pictures of the pages themselves.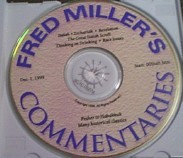 Fred Millers Commentaries - The Great Isaiah Scroll
Including Commentaries by Fred P Miller on:
Isaiah,
Revelation,
Zechariah,
Micah,
Ezra,
Qumran Scrolls,
photo copies of the original scroll pages with analysis and translation: The Qumran Great Isaiah Scroll,
and The Pesher to Habakkuk; (The commentary on Ezra is linked to complete Medo-Persian history.)

also Booklets on Christian Attitudes and Racial Problems and Bible Wine and other important articles, one of the most important being Isaiah's use of the word "Nazar"

And also complete copies of Herodotus; Tacitus: Histories, Annals, Agracola, Germania; Jordanes History of the Goths; Josephus complete works; Eusebius Church History; Livy; Thucydides Peloponesian Wars; Xenophon: Anabasis, Cyropaedia, Hellenica; Geography of Strabo; Plutarch's Lives complete; Edersheim Life of Christ Vols I and II; Edersheim on the Temple; Philip Schaff's Church History 8 Volumes; Gibbons Decline and Fall of the Roman Empire 6 Volumes; Ante-Nicene Fathers 9 Volumes; Complete Works of Bede; Einhard, Life of Charlemange; Philo on Creation; Philo on Essenes; Peter Abelard My Misfortunes; Rosetta Stone; Behiston Rock (2 sites); St Paul, Roman Traveler by Ramsey; Selection of 28 Roman Emperors; Edicts of Toleration Galerius 311 and Constantine 325; and much more.

Archaeological Items 1. Nebuchadnezzar and the Conquest of Jerusalem Cylinder 2. The Babylonian Chronicle 3. Cyrus' Cylinder Seal 4. Puru "The lot of Yahali" 9th Century B.C.E. 5. Sennacherib's Prism 6. Siloam Tunnel Inscription 7. Photos of Petra

Bible Commentaries, Jamison Fawcett and Brown, Matthew Henry's Concise Commentary on the Bible; Four Fold Harmony of Gospels by J.W. McGarvey; Acts of Apostles by J.W. McGarvey; Vision of the Ages Revelation: by B.W. Johnson (1881); Gospel of John, by B.W. Johnson; People's New Testament: by B. W. Johnson; Galatians, by Martin Luther; Horae Apocalypse by E B Eliot, The Classic of the Historical View;

Other classics: Fox's Book of Martyrs; First Maccabbes; Second Maccabbees; Hammurabi's Code; Thomas Mallory's Le Morte D'arthur; Post Nicene: Volume II Socrates; Sozoman Histories, Volume III Theodoret, Jerome; Volume VII Cyril of Jerusalem; Gregory Nazianzen.

Bible Translations: Spanish Bible complete;
Alexander Campbell's Living Oracles;
Fred Miller's revision of the KJV complete
Jerome's Latin Vulgate.


Apologetics: New Testament Documents by F.F.Bruce
Dispensationalism A Thorough Treatment of Millenialism
Canright Seventh Day Adventism Refuted
Vatican I 1870 Papal Infalibility Proclaimed
Vatican II Religious Freedom Result of Existential Thought

English Translation of 40 Dead Sea Scroll Manuscripts.
SCREENSHOTS


---
Use you back button to return to this page after viewing the screenshots.

Screenshots
REVIEWS


---
None available
VERSIONS


---
Fred Millers Commentaries - The Great Isaiah Scroll, £19.99

Compare also:

SYSTEM REQUIREMENTS


---
System

PRICING


---
Fred Millers Commentaries - The Great Isaiah Scroll, £19.99


Prices include 17.5% VAT

Email to check latest pricing or stock availability

Check Exchange Rates to convert UK pricing
Postage, Packing & Insurance Rates
1
UK light items (2nd class)
£3 (GBP)
2
UK light items insured (1st class) Any orders over £100
Customers may choose this rate on light items under £100 to speed delivery
£6 (GBP)
3
UK heavy items parcelpost
UK light items next day guaranteed
Europe light items
£9 (GBP)
4
World surface mail
£12 (GBP)
5
Europe heavy items
£15 (GBP)
6
UK heavy items next day guaranteed
World airmail
£18 (GBP)
If you require the outer packaging of your order to be intact for a gift then please add this to any special instructions as normally excess weight is removed before despatch to increase chances of a standard letter box delivery, and thus not require you to wait in to receive your order. Minimum P&P on fully boxed orders is £6
ORDERING


---
Any questions prior to ordering? - Then Email: sales@bmsoftware.com

To order, use the online

If the online ORDER FORM fails for any reason or your product is not yet listed there, or you wish to print and send your order, then fill in the following, hit the Select details button, and copy and paste to your email program or word processor:

Now hit Ctrl+C to copy the selected text to your clipboard and then paste (Ctrl+V) it into your preferred program
CONTACT DETAILS


---
Click here for full Contact Details including postal address, additional phone lines and technical support email.

Whilst we are based in the UK we can ship most items internationally.


| | | | | | | | |
| --- | --- | --- | --- | --- | --- | --- | --- |
| | RETURN TO TOP OF PAGE | | CLOSE WINDOW | | PRINT PAGE | | HOME |