| | | |
| --- | --- | --- |
| | FLB Software's Holiness Classics | |
Details and specifications on: FLB Software's Holiness Classics, £24.95 (UK RRP £49.00 inc VAT). A collection of sermons written by various 'greats' including Wesley, Clarke, Chadwick and the Keswick Convention. [Buy now] or call us on 0870 766 3699.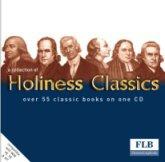 FLB Software's Holiness Classics
55 Great Holiness Classics on one CD ROM including:

Wesleys Sermons
Notes on the books of the New Testament
Sermons from Keswick Convention
Adam Clarke
A.M. Hills
Beverly Carradine
E.M.Bounds
Booth
Samual Chadwick
Abel Stevens
John Fletcher

1. Wesleys Sermons
A collections of over 140 of great sermons by John Wesley. Here we have a symposium of the teaching of the main instrument of the first great evangelical awakening, which resulted in the establishing of Methodism world-wide. Here great works on topics such as the Sermon on the Mount, prayer, the work of the spirit (both in the world and the individual) and a host of other subjects which all candidates for the Methodist ministry still find required reading.

2. Notes on the Books of the New Testament
Joined to Wesley's sermons we have his notes on the books of the New Testament. Though his observations are brief, they are always spiritual as well as scholarly. It is truly astonishing how Wesley anticipated much of modern scholarship's views on various textual changes. These notes cover the whole of the New Testament.

3. Sermons from Keswick Convention
This is a collection of some 120 sermons preached at the early Keswick Convention by such spiritual giants as A.T.Pierson, Evan H. Hopkins, J.Elder Cummings, E.W.Moore, Ehas Inwood, Webb Peploe, J.B.Meyer, G. Campbell-Morgan, W.Griffith-Thomas, W.G.Scroggie and a host of other superb examples of pulpit mastery. These early Keswick records are as rare as white elephants and when found can be just as expensive!

4. Adam Clarke
Here is a selection of works by Adam Clarke, not his commentary but his letter to a preacher, which is a treatise in the work of Christian ministry. There is also an account of the life and ministry of Adam Clarke from his infancy, his religious life and his literacy output.

5. A.M.Hills
The writings of A.M.Hills should be consulted. It is claimed he had more influence on young theological students than any other Christian writer in America. This constitutes almost a complete collection of his writings. 9 volumes of such a man is a collection well worth having.

6. 10 volumes of Beverly Carradine
Carradine was of that transitional period in the 1930's when the doctrinal emphasis passed to almost an exclusively experiential emphasis in the holiness movement. Some of his typology treatment is somewhat forced - but many have been greatly helped by his writings. Certainly all his major works are found in this collection.

7. E.M.Bounds
Bounds was a wonderful gift to the church of Christ. Almost all his books were on prayer. They are all classics and should be absorbed into the spiritual life of every serious Christian. I believe these constitute all the writings of Bounds. Added to his books on prayer is his delightful treatise on Heaven. We should all want to know as much as we can on our future home. We're going to be there a lot longer than our present abode!

8. Booth
Though these books are entitled 'Booth', only one is by the General himself (his treatment on Heart Purity). The other is by his daughter 'The Marachelle', the third is by the free Methodist saint 'Mither Coon' who challenged D.L.Moody as to his spiritual needs and prayed him into the fullness of the blessing of the Gospel.

9. 4 Volumes of Samual Chadwick
Chadwick was a remarkable man, editor of the Methodist paper 'The Joyful News', president of the Sonthsport Holiness Convention and principal of the Cliff College Evangelist's training center. His sermons are classics and full of spiritual meat. These four works well repay any careful reader.

10. Abel Stevens
Here are 2 volumes of his writings, the first is his account of the life and times of Nathan Bangs, who was a gigantic scholar on Methodist history. They not only cover a great deal of history, but a great deal of Methodist doctrine as well. His works on the women of Methodism are the biographies of Selina the Bountess of Huntington, Barbara Heck, the Methodist saint and the mother of Methodism as well as John and Charles Wesley, the redoubtable Susanna Wesley.

11. John Fletcher
The CD closes with two biographies of Wesley's designated successor, the seraphic John Fletcher of Madeley. Some judge him as one of the greatest saints ever in the history of the church of Christ.
SCREENSHOTS


---
None Available
REVIEWS


---
None available
VERSIONS


---
FLB Software's Holiness Classics, £24.95 RRP £49.00
SYSTEM REQUIREMENTS


---
Windows PC

PRICING


---
FLB Software's Holiness Classics, £24.95 RRP £49.00

Prices are in £GBP and include all applicable taxes (VAT etc)

P&P will be charged at "light items" rates (1/2/3) - click here for full Postage & Delivery Details including shipping rates within the UK, Europe and worldwide, same day and next day before midday options.

Email to check latest pricing or stock availability

Check Exchange Rates to convert UK pricing or Email us with your country and/or currency for a quote.


ORDERING


---
Any questions prior to ordering? - then email: Sales or call us on 0870 766 3699, otherwise proceed to the Order Form.

If the online Order Form fails for any reason or your product is not yet listed there, or you wish to print and send your order, then fill in the following, hit the [Select details] button below, and copy and paste to your email program or word processor:

Now hit Ctrl+C to copy the selected text to your clipboard and then paste (Ctrl+V) it into your preferred Email program or click here to launch your Email editor.
CONTACT DETAILS


---
Click here for full Contact Details including postal address, additional phone lines and technical support email.

Whilst we are based in Norwich, Norfolk in the UK we can ship most items internationally.


RETURN TO
TOP OF PAGE

CLOSE
WINDOW

PRINT
PAGE

HOME
PAGE

TERMS AND
CONDITIONS

HELP ON USING
THIS SITE