Details and specifications of Davka's Alef Bet Adventure, £34.95 (GBP inc VAT RRP £39.95). Learn the Hebrew Alphabet with Alef Bet Adventure. [Buy now] or call us on 0870 360 3699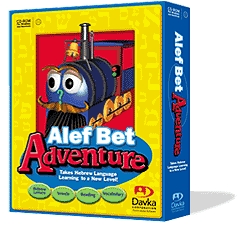 Davka
Alef Bet Adventure
The Hebrew alphabet has never been easier or more fun for kids to learn. The Alef Bet Adventure software program gives young students an innovative, exciting way to learn the Hebrew alphabet over the course of a year, including learning Hebrew letters and vowels, Hebrew reading, and basic vocabulary.
Learning the Hebrew Alphabet is Easy and Fun!
Alef Bet Adventure has three main sections:
The Letters
The Vowels
Words: Reading and Vocabulary
The Letters
The Vowels
Words: Reading and Vocabulary
Each section has its own Home Page to make it easy for children to navigate between the different parts of the program. There's plenty to learn and do: Each Letter has five learning sections, each Vowel has ten learning sections and each Words section is followed by a fun exercise to reinforce what is learned.
Special Bonuses
The Practice Page allows you to design your own custom practice sheets to review on-screen or print out.
The Vocabulary Section gives kids quick access to any of the words used in the program, and is great for easy reading and vocabulary practice.
Alef Bet Adventure is an exceptionally flexible program, designed to meet the needs of different learning styles. It even includes an option to practice reading any combination of letters and vowels. Any page from the entire program can be printed for extra practice. The colorful 3-D graphics, captivating sound, and superb animation attract and engage youngsters for hours.

Yet, behind its flexibility and fun, Alef Bet Adventure teaches the Hebrew alphabet using a highly organized and systematic approach.

Learn the Hebrew Alphabet Using a Unique Educational Method

The most common approach to teaching the Hebrew alphabet is to first teach the names of all the letters and then teach the sounds of all the letters. This approach can sometimes be confusing for children because it can be difficult to remember all the letters at once, without the opportunity to really get to know each individual letter.

Alef Bet Adventure takes a totally different approach. Based on the renowned Hebrew reading book Veshinantam, and on the advice of leading educators, each letter of the alphabet is taught individually until every aspect has been covered - its name, shape, and sound.

Only after children are fully familiar with a letter and have reviewed it together with previously learned letters does the program continue to the next letter.

The same systematic structure is followed in the vowel section of the program. Each vowel is presented individually, with ten distinct learning sections for each new vowel. Each has its own unique practice exercise. The program mixes the vowels together with the letters and repeatedly reviews old material together with new. This has proven to be an exceptionally successful approach to teaching children the Hebrew alphabet and how to read Hebrew.



Please Email or Call 0870 360 3699 to enquire about site licenses, network versions, bulk discounts or educational pricing.

[Buy now] or call us on 0870 360 3699

Manufacturer's Product Code: Davka - BMSoftware Product Code: DAVABA
SCREENSHOTS


---

Screenshot 1
Learn the vowels and all of the letters!

Screenshot 1
You'll learn the sound and appearance of all of the letters.

Screenshot 1
Chain the Train will guide you through the program.
REVIEWS


---
Reviews, tests and comparisons of jewish software:
SYSTEM REQUIREMENTS


---
Windows PC
Pentium 233 MHz
Yes
95/98/Me/NT/2000/XP, 64MB RAM, VGA or better, CDROM, sound
Apple MAC
PowerPC 233 MHz
Yes
System 8.5 or higher, or OS X native mode, CDROM
Linux
N/A
VERSIONS, OPTIONS & ALTERNATIVES


---
| | | | | | |
| --- | --- | --- | --- | --- | --- |
| Davka | Alef Bet Adventure | £34.95 | (RRP £39.95) | [DAVABA] | Buy or Phone 0870 360 3699 |

Compare also:


PRICING


---
| | | | | | |
| --- | --- | --- | --- | --- | --- |
| Davka | Alef Bet Adventure | £34.95 | (RRP £39.95) | [DAVABA] | Buy or Phone 0870 360 3699 |

Also see alternative versions and products above

Prices are in £GBP and include all applicable taxes (VAT etc)

P&P will be charged at "light/heavy items" rates
(Some valuable items may have to go special delivery and packages may have outer packaging or inner boxing removed to save weight, if this is a gift or for resale please request intact boxes)

See our full Postage & Delivery Details including shipping rates within the UK, Europe and worldwide, first class and next day before 9 AM and 12 Noon, same day options.

Email to check latest pricing or stock availability or for a bulk discount quote of up to 40%.

Check Exchange Rates to convert UK pricing or Email us with your country and/or currency for a quote.


ORDERING


---
Any questions prior to ordering? - then email: Sales or call us on 0870 360 3699, otherwise proceed to the Order Form.

If the online Order Form fails for any reason or your product is not yet listed there, or you wish to print and send your order, then fill in the following, hit the [Select details] button below, and copy and paste to your email program or word processor:

Now hit copy (Ctrl+C) the selected text to your clipboard and then paste (Ctrl+V) it into your preferred Email program or click here to launch your Email editor.
CONTACT DETAILS


---
Click here for full Contact Details including postal address, additional phone lines and technical support email.

Whilst we are based in Norwich, Norfolk in the UK we can ship most items internationally.


RETURN TO
TOP OF PAGE

CLOSE
WINDOW

PRINT
PAGE

HOME
PAGE

TERMS AND
CONDITIONS

HELP ON USING
THIS SITE