Details and specifications of DarkBASIC Professional, £70. Create your own excelent quality games with this brilliant software - no need to learn C++!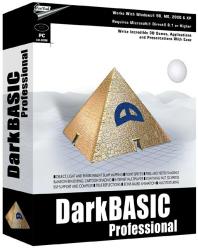 An extensive command set, which automatically operates key functions means that the inputting of lines and lines of code is eradicated meaning completion of a game can be simple and quick. Put simply DarkBASIC PRO has been devised to make a coders life a lot easier. It is a guaranteed ticket to freedom to express ideas allowing you to enjoy the fun elements of programming whilst DarkBASIC Pro manages the boring part.

Core 3D technologies such as Binary Space Partitioning (BSP) Rendering, Bump Mapping, Particles and Multi-texturing are all a walk in the park with DarkBASIC Pro. All code is compiled into 100% code, which guarantees that the visual delivery is of outstanding quality! This is possible, because DarkBASIC Pro supports the most up-to-date DirectX features from the latest graphics hardware. Those familiar with DarkBASIC, will love DarkBASIC Professional. The developers have taken a really proactive approach by inviting and encouraging suggestion and comment from users of DarkBASIC resulting in many improvements and additions being incorporated to make this a really spectacular package.

A few commands are all thatís needed to create cool pixel and vertex shader effects or to project an MPEG movie onto the surface of a 3D object - at last youíre free to get your ideas moving fast. Improvements include a fully featured Windows editor and joy of all joys, a powerful debugger. For the hardcore coder DarkBASIC Pro truly delivers Ė as you can even expand it by adding your own DLLs into the plug-ins directory. DarkBASIC Pro is suitable for programmers of all levels.

Key Features


Windows Editor
Compiler
Integrated Debugger
Designed for DirectX 8.1
Lightening Fast 2D sprites
Fast collision
Multiplayer
Fully XP compliant
Compiled exe files
100% Machine code
Encrypts and compresses
Icon control of exes
3D Engine:
Binary Space Partitioning, Constructive Solid Geometry, Nodetree optimisations , Bump Mapping, Light mapping, Cubic Mapping, Multitexturing, Bone and Limb Animations, Pixel and Vertex shaders, Lights, Terrain & Matrices, Vector and Matrix manipulation, Real Time Shadows, True reflections, Multiple Cameras and Particles.
Formats supported:
3D: X, 3DS, MD2, MD3, MDL, BSP
2D: BMP, DDs, JPEG, TGA, PNG, DIB
Sound: WAV, AIFF, AU, SND
Music: MP3, MIDI, SGT
Video: DVD, AVI, MPEG, Indeo, Cinepak, QuickTime, V2, MJPG
Data Types:
Boolean, Integer, Float, Byte, Word, DWord,
Double Integer, Double Float, Constants, Strings Types, Functions
Unified Arrays (link lists, queues, stacks)
Numeric bases - Decimal, binary, hexadecimal, octal
SCREENSHOTS


---
None Available
REVIEWS


---
None available
VERSIONS


---
DarkBASIC Professional, £70

Compare also:
BLitz 3D>, £90
3D Gamemaker>, £30
SYSTEM REQUIREMENTS


---
Windows 95, 98, 2000 or ME
Pentium II P300 or above
64MB RAM
450MB Hard Disk Space
4x CD ROM Drive
Direct 3D Compatible Graphics Card (with 8MB or above)
Direct X Compatible Soundcard
PRICING


---
DarkBASIC Professional, £70


Prices include all applicable taxes

P&P will be charged at "light/heavy items" rates (1/2/3 or 3/6) - see below

Email to check latest pricing or stock availability

Check Exchange Rates to convert UK pricing
Postage, Packing & Insurance Rates
1
UK light items (2nd class)
£3 (GBP)
2
UK light items insured (1st class) Any orders over £100
Customers may choose this rate on light items under £100 to speed delivery
£6 (GBP)
3
UK heavy items parcelpost
UK light items next day guaranteed
Europe light items
£9 (GBP)
4
World surface mail
£12 (GBP)
5
Europe heavy items
£15 (GBP)
6
UK heavy items next day guaranteed
World airmail
£18 (GBP)
If you require the outer packaging of your order to be intact for a gift then please add this to any special instructions as normally excess weight is removed before despatch to increase chances of a standard letter box delivery, and thus not require you to wait in to receive your order. Minimum P&P on fully boxed orders is £6
ORDERING


---
Any questions prior to ordering? - Then email: sales@bmsoftware.com.

To order, use the online

If the online [Order Form] fails for any reason or your product is not yet listed there, or you wish to print and send your order, then fill in the following, hit the [Select details] button, and copy and paste to your email program or word processor:

Now hit Ctrl+C to copy the selected text to your clipboard and then paste (Ctrl+V) it into your preferred program Make sure you read our Terms and Conditions.
CONTACT DETAILS


---
Click here for full Contact Details including postal address, additional phone lines and technical support email.

Whilst we are based in the UK we can ship most items internationally.


| | | | | | | | |
| --- | --- | --- | --- | --- | --- | --- | --- |
| | RETURN TO TOP OF PAGE | | CLOSE WINDOW | | PRINT PAGE | | HOME |