| | | |
| --- | --- | --- |
| | BibleWorks 5 - Hebrew, Greek Bible Study Software | |



Special Offer Pricing until October 06 only £189 inc VAT SAVE £60 or 24% Upgrade only £107 - Buy or Upgrade Bibleworks now




Details and specifications on: Bibleworks 5 - now discontinued see: BibleWorks 7 instead, £215 or less when on sale or offer, (UK RRP £249 inc VAT, saving 14%). The premier Hebrew, Greek, Aramaic, Latin & Syriac biblical and original language exegesis software. Includes Josephus & the Apostolic Fathers in Greek and English. With recurring word usage pattern collocation tables. now supports Unicode SBL and SIL Greek and Hebrew fonts with full export and improved built-in wordprocessor. Hebrew & Greek vocabulary learning flashcard modules, grammars. Upgrades, institution, student and network versions available.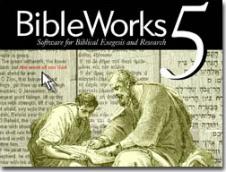 New Revisions and Extras to version 5.2
|
Network licensing
|
New Program Features
|
Full Contents of versions 3,4 & 5
NEW EXTRAS FOR BIBLEWORKS 5 REVISIONS



The Hebrew and Aramaic Lexicon of the Old Testament, 4th Edition [HALOT]
Koehler-Baumgartner-Stamm
The complete and unabridged fourth edition (2000)! £119

A Greek-English Lexicon of the New Testament and Other Early Christian Literature, 3rd Edition [BDAG3]
Bauer, Walter. Edited and revised by Frederick William Danker.
The standard Bauer-Danker-Arndt-Gingrich reference is now available for BibleWorks users, complete and unabridged! £79

Package Deal: HALOT and BDAG3
Purchase both the HALOT and BDAG3 for one low price! £149

NETWORK LICENSING NOW AVAILABLE



If you have five or more users of BibleWorks at your organization, you may be eligible for discounted pricing through our site license policy.  Network/multi-user/site licensing for BibleWorks is available to churches, seminaries, Bible colleges, universities, libraries, and other institutions and organizations.

BIBLEWORKS NETWORK/MULTI-USER LICENSE POLICY

A BibleWorks NETWORK LICENSE is for up to a given number of simultaneous users (controlled and accountable "nodes") at ONE PHYSICALLY CONTIGUOUS SITE.
While permission is granted to install BibleWorks on the ENTIRE site network and/or workstations, CONCURRENT ACCESS must be limited to the given number of simultaneous users licensed (such as via metering software).
IF BibleWorks concurrent access cannot be controlled and verified, THEN each networked computer or stand-alone computer counts as one node.
Permission is granted for FACULTY use at their homes, within the constraints of this license. That is, if a teacher is permitted use of BibleWorks at school under this site license, then the teacher is also permitted use of BibleWorks at home.
For Network pricing see below.

NEW PROGRAM FEATURES TO VERSION 5



More Powerful but Easier to Use
Bibleworks 5 is more powerful than ever, however the menus have been redesigned to be easier to use. In addition, three modes are available: Beginner, Intermediate and Power User, offering easier interfaces and hiding more complex features.

Build your own Bible versions
The new Version Database Compiler lets you build your own Bible versions for use in BibleWorks. The new version can be displayed and searched, just like the other Bible versions in BibleWorks! This will be a great boon to missionaries and translators. Simply provide the text to BibleWorks in ASCII text format, with verse references for each verse, and the BibleWorks Version Database Compiler will compile the database and install it in BibleWorks.

Lexicon Browser
Lexicons and Dictionaries can now be browsed in context rather than an entry at a time. A new Lexicon Browser permits you to search lexicon and dictionary entries for Greek, Hebrew and English words and phrases (including boolean operations and wild cards). See screenshot.

Detailed Statistics Window
Examine search results in the more Detailed Statistics window. New features include verse and word-based hits and a graphical display of results.See screenshot.

Synopsis Browser
View parallel passages using the editable Synopsis Browser. In this window, you can view Synoptic Gospel parallels in side-by-side windows. The synopsis lists are editable so you can design your own synoptic lists for other parts of Scripture. See screenshot.

Verse Report Generator
Using the Verse Report Generator you can choose a verse (or a verse range) and create a report with the text, lexical entries and morphological analysis for all Greek and Hebrew words, lemma and form usage summaries, personal user notes, and more – conveniently compiled for personal study and research. You can export it to your word processor, or print it as a document and take it with you!

Wordlist Manager
The new Wordlist Manager takes the results of searches and let you manipulate and compare the resulting word lists. These words can be used to build new searches. See screenshot.

Other New Features

BibleWorks 5.0 comes with 4 hours of training videos that walk you through almost every aspect of the program.
A new configuration manager allows you to save configurations (option choices, windows positions, etc.) and choose the one you want when BibleWorks starts.
The Advanced Search Engine has been enhanced in numerous ways and now includes clipboard and import functions.
You can now do mixed text/Strong's Number searches.
There are numerous display enhancements. There is, for example, an option to remove Hebrew vowels from the display.
All paired versions (i.e. text and morphology), including Hebrew, now highlight in one version the results of searches in the other.
Better Network support permits multiple users on a network to run BibleWorks from the installation node. Separate notes and preferences are maintained for each user and nothing needs to be installed on the remote computer except a shortcut.
CONTENTS


---
Yellow highlighted items are new to Version 4.0. Orange highlighted items are new to Version 5 from August 2001. ORIGINAL LANGUAGE TEXTS - GREEK NT
Greek NT-Nestle-Aland 27th Ed./UBS 4th Ed.
AGNT Friberg's '94 Morphologically Analyzed Greek NT & Lemmas
BNM Aletti/Gieniusz/Bushell Morphologically Analyzed Greek NT & Lemmas
Robinson-Pierpont Greek NT (Majority Text) with Morphological Analysis
Scrivener's Greek NT (Textus Receptus) with Morphological Analysis
Stephanus Greek NT (Textus Receptus) with Morphological Analysis
Tischendorf Greek NT
Westcott and Hort Greek NT
ORIGINAL LANGUAGE TEXTS - HEBREW OT
BHS Hebrew Text, 1990-4th Corrected Ed. now with full Hebrew accents
Westminster Seminary 1998 Morphologically Analyzed BHS & Lemmas, version 3.0, now containing full stem tagging, jussive and cohortative tags, and homonym tagging - now revised to 2001 edition ,version 3.5, an supplemented with accent tags. Two separate tagging systems are included, one based on the CCAT database and one based on the work of Dr. J. D. Price. So you can now do searches on the Hebrew accents.
The Transliterated BHS Hebrew Old Testament
ANCIENT LANGUAGE TRANSLATIONS - GREEK SEPTUAGINT
Rahlfs' LXX with Apocrypha and variants
BLM Aletti/Gieniusz/Bushell Morphologically Analyzed LXX & Lemmas
Brenton's LXX English Translation
ANCIENT LANGUAGE TRANSLATIONS - LATIN VULGATE
Latin Vulgate (Weber Edition), Online Bible Latin Vulgate
MODERN LANGUAGE TRANSLATIONS
English: KJV 1611/1769 with Strong's Codes, NKJV, NASB, NASB 1995, RSV with Apocrypha, NIV, NRSV with Apocrypha, Webster's 1833 with Strong's Codes, ASV 1901, Young's Literal Translation, Darby Version, Bible in Basic English, New American Bible, Douay-Rheims 1899 American Edition, New Living Translation, New Jerusalem Bible, The Jewish Publication Society English Tanakh (1985), The Jewish Publication Society Holy Scriptures 1917 (English OT), The English Standard Version © 2001 Crossway Books/Good News Publishers
German: LutherBibel 1912 with Strong's Codes, LutherBibel 1984, Unrevised Elberfelder 1905 (Darby), Revised Elberfelder 1993, Geneva-Schlachter, Einheitsubersetzung-KBA 1994 The Münchener NT (1998) with Codes (German)
French: Nouvelle Edition De Geneve with Strong's Codes, Version Darby, Louis Segond 1910 with Strong's Codes, Haitian Creole, French Bible en francais courant 1997, French Jerusalem Bible, French TOB Traduction OEcumenique de la Bible 1988
Spanish: Reina Valera, Reina Valera Actualizada, La Biblia de Las Americas (NASB), Reina Valera Update 1995, Reina Valera Revised 1960
Modern Greek: The Modern Greek Bible (Old and New Testaments)
Modern Hebrew: The Salkinson Ginsberg Hebrew New Testament
Catalan: Biblia Catalana. Traduccio interconfessional.
Portuguese: Almeida Corrigida Fiel Traduzida 1819/1995, Almeida Revista e Atualizada, Almeida Revista e Corrigida
Italian: Edizione San Paulo N.V.B. (with Deutero-Canon), La Sacra Bibbia Nuova Riveduta, La Nuova Diodati
Dutch: Statenvertaling with Strong's Codes, Revised Leidse, Revised Lutherse, Netherlands Bible Society NBG 1951
Danish: Hellige Skrifter, The Wierød Danish New Testament
Norwegian: Norsk Bibel
Finnish: Pyha Raamattu
Hungarian: Magyar Nyelvu Karoli
Bulgarian: The 1938 Bulgarian Bible
Swedish: The Swedish Bible © 1917 Svenska Bibelselskapet
Polish: Biblia Tysiaclecia. Wydanie 4. (1954/1984)
Russian: Orthodox Synodal Text with Strong's Codes and Russian Lexicons
Czech: The Czech NT- Slovo na cestu (SNC) © 2000 International Bible Society
Romanian: The Cornilescu Romanian Bible
Ukrainian: Ukrainian Version from OLB
Albanian: Albanian Version from OLB
Vietnamese: Vietnamese Version (Romanized text)
Indonesian: Bahasa Indonesia Sehari-hari 1985, Terjemahan Baru 1994/1997
LEXICONS AND ANALYSIS TOOLS
All versions and morphological databases are indexed and searchable
Complete lemmatization and parsing for EVERY word in Greek NT, LXX, and Hebrew OT
The completed BibleWorks/CATSS LXX/GNT Morphology
The Theological Wordbook of the Old Testament (Harris, Archer, Waltke)
BDB-Gesenius Abridged Hebrew-English, Hebrew-French, & Hebrew-Russian Lexicons
BDB-Gesenius full unbridged Hebrew Lexicon
The Hebrew and Aramaic Lexicon of the Old Testament, 4th Edition (Koehler-Baumgartner-Stamm) Requires unlock
A Greek-English Lexicon of the New Testament and Other Early Christian Literature, 3rd Edition (Bauer, Walter. Edited and revised by Frederick William Danker) Requires unlock
Whitaker's Revised BDB Hebrew-English Lexicon
Liddell-Scott Greek Lexicon, Abridged (covering entire LXX text)
Friberg's Analytical Lexicon of the Greek New Testament (1994) now the complete 2000 edition including the analytical parts (not just the definitions as in previous versions)
Louw-Nida Greek NT Lexicon based on Semantic Domains, 2nd Ed., 1988
UBS Greek-English Concise Dictionary of the New Testament (Barclay Newman)
Thayer's Abridged Greek-English and Greek-French and Greek-Russian Lexicons
Thayer's full unabridged Greek Lexicon
Corrected Strong's Codes Tagged to English/German/Dutch/French/Russian Bibles
Englishman's and Strong's Greek/Hebrew/English/ German/Dutch/French/Russian Concordances
Wigram's TVM (Tense, Voice, Mood) codes and grammar explanations for tagged English/German/Dutch/French/Russian Bibles
REFERENCE WORKS
International Standard Bible Encyclopedia, First Edition (powered by FolioViews) now integrated into BibleWorks
A. T. Robertson's Word Pictures in the Greek NT
The Faussett Bible Dictionary
Metzger's Bible Outline
Treasury of Scripture Knowledge (644,000 Cross References and Marginal Notes)
Nave's Topical Index
Easton's Bible Dictionary
Bible Time Lines (editable & includes Church and secular history)
Westminster Confession and Catechisms
HELP AND OTHER FEATURES
Detailed manual and extensive hypertext online help, tooltips, and mouse-hints
Instructional videos made with Lotus ScreenCam (on the CD, not on VHS tape).
Help on any item on the screen is available simply by placing the mouse cursor over the item and pressing F1.
Accented Greek, pointed Hebrew, & Cyrillic TrueType and PostScript fonts
Built-in editor with right-to-left Hebrew typing
Popup window for other word processors
Export verses, chapters, books, and entire versions to ASCII text, RTF, and CCAT.
SCREENSHOTS


---
Use you back button to return to this page after viewing the screenshots.

Screenshot 1 | Screenshot 2 | Screenshot 3 | Screenshot 4 | Screenshot 5 | Screenshot 6
REVIEWS


---
Use you back button to return to this page after viewing the reviews.

Evangelicals Now (Sept 02 issue, page 22)
VERSIONS


---
Version 6 launched December 2003
Version 5 launched September 2001. Extra modules in the pipeline
Limited stock of version 3.5 and 4.0 still available
Upgrades and Network editions available
See Pricing below
SYSTEM REQUIREMENTS


---
PC compatible computer (Mac & Linux users click here)
Windows 95/98/ME/NT/2000/XP
CD drive
Minimum 32 MB RAM
Minimum of 200 MB to a maximum of 1.4 GB hard drive space
Sound card for Video Demos
Internet connection and Internet Explorer 3.0+ needed for the built-in Internet updater.
PRICING


---
Bibleworks Version 3.5 £109 - almost certainly unavailable
Bibleworks Version 4 £149 - limited numbers
Upgrade to Bibleworks Version 5 £125
Bibleworks Version 5 £190
Bibleworks Version 5 Network licence [5 user] £699 - saving nearly £450
Bibleworks Version 5 Network licence [extra user] £119
Bibleworks Version 6 £225
Turnaround is next day guaranteed

Prices include 17.5% VAT

Compare our prices - cheapest legal UK pricing guaranteed. All resellers of Bibleworks are subject to a strict pricing policy not allowing us to sell below the UK equivalent of $299.99 plus an optional $35 shipping charge, plus UK VAT. Taken from an international currency rates website the price conversion if you purchased Bibleworks from the USA would be:
| DETAIL | COST | $/£ |
| --- | --- | --- |
| Bibleworks | $299.00 | USD |
| Int Shipping | $35.00 | USD |
| Sub Total | $334.00 | USD |
| UK Sterling equivalent | £215.00 | GBP |
| UK VAT 17.5% | £37.63 | GBP |
| Customs Clearance Fee | £10.00 | GBP |
| Total | £262.63 | GBP |

| DETAIL | COST | $/£ |
| --- | --- | --- |
| Bibleworks Upgrade | $149.00 | USD |
| Int Shipping | $35.00 | USD |
| Sub Total | $184.00 | USD |
| UK Sterling equivalent | £119.00 | GBP |
| UK VAT 17.5% | £20.83 | GBP |
| Customs Clearance Fee | £10.00 | GBP |
| Total | £149.83 | GBP |
Our prices are already discounted by 10%-20%.

You may check the prices above yourself by using the currency look-up link below.



Prices include all applicable taxes


P&P will be charged at "heavy items" rate 2 and sent next day guaranteed by 12 noon (this saves you £3 on delivery and gets it to you next morning!) - click here for full Postage & Delivery Details including shipping rates within the UK, Europe and worldwide, and next day before midday options.

Email to check latest pricing or stock availability

Check Exchange Rates to convert UK pricing or Email us with your country and/or currency for a quote.


ORDERING


---
Any questions prior to ordering? - then email: Sales, otherwise proceed to the Order Form.

If the online Order Form fails for any reason or your product is not yet listed there, or you wish to print and send your order, then fill in the following, hit the [Select details] button below, and copy and paste to your email program or word processor:

Now hit Ctrl+C to copy the selected text to your clipboard and then paste (Ctrl+V) it into your preferred program
CONTACT DETAILS


---
Click here for full Contact Details including postal address, additional phone lines and technical support email.

Whilst we are based in the UK we can ship most items internationally.


RETURN TO
TOP OF PAGE

CLOSE
WINDOW

PRINT
PAGE

HOME
PAGE

TERMS AND
CONDITIONS

HELP ON USING
THIS SITE