| | | |
| --- | --- | --- |
| | Ages Digital Software Master Christian Library 8 | |
Details and specifications of Ages's Master Christian Library 8, £62 (GBP inc VAT RRP £69). Economical yet wide ranging 1000+ MB Christian Bible study, commentary, collection, Church history and literature library. Compatible up to MAC OS 9, Windows XP - for later updated versions compatible with Apple Mac OS X, Windows 2000, XP, Vista, Windows 7, 32 or 64 bit see Christian Library Series. [Buy now] or call us on 0844 808 3699



This item may be ON SALE at £59 (GBP inc VAT)





Now on Version 8 the MASTER CHRISTIAN LIBRARY boasts over 1 Gb of Christian reference and literature on two CD ROMs. Latest additions include Barnes' Notes on the Bible, Thayer's Greek Lexicon, Bible Dictionaries by Fausset, and by Smith, Strong's Systematic Theology and more.

Also included are all 39 volumes of the early church writings, Josephus, Philo, works by Luther, Calvin, Wesley, Spurgeon, Edwards, Finney, Bunyan, Sir Robert Anderson, Edersheim, Moody, Bibles, Commentaries, e.g., by Keil and Delitzsch, JFB, Matthew Henry, Gray, Wesley, and more. Some 400+ works in total.

[CLICK] on an item below to see full details - use your browser's [BACK] button to return to the list


---
Items below are new to version 8
Barnes' Notes on the Bible by Albert Barnes
Barnes' Notes is an all-purpose commentary. It embodies exactly those features which are valued and appreciated by ministers and laymen alike. Among these are: (1) its verse-by-verse coverage of the Scriptural text, (2) its satisfying explanation of each verse, (3) its practical application of the teachings of Scripture to everyday life, (4) the clear and understandable language of the commentary,

Barnes' Notes are true to Scripture. They reflect the author's high regard for the Bible as the infallible Word of God. Albert Barnes was willing to let the Bible speak for itself.

Barnes' Notes is a commentary of general usefulness. Bible students appreciate this commentary as a trustworthy guide in their study of the Bible. Ministers utilize the valuable homiletical material in each volume, in addition to the scholarly and practical commentary. Teachers use these volumes for their lesson preparation, and select them as textbooks for their students. Sunday school workers find this to be a commentary especially written for their use and therefore eminently suited to their needs. Laymen love the lucid, non-technical, practical interpretation of God's Word.

For a period of over thirty-five years Albert Barnes was the beloved pastor of the large and influential First Presbyterian Church of Philadelphia.

It was during these years that there flowed from the mind and pen of Albert Barnes a veritable stream of volumes of essays, sermons, and Notes for Bible Study. The latter were prepared for the specific use of Sunday School Workers. When Barnes reached the close of his long and busy career he had provided notes on the entire New Testament as well as on several books of the Old Testament.

It is almost unbelievable that so busy a pastor could make such a large contribution to the field of religious literature. Barnes himself tells us how this was made possible. He did all his writing before nine o'clock in the morning. By rising regularly between four and five o'clock he could daily spend several hours in writing without neglecting his work as pastor.

Because Barnes had a high regard for the Bible as the word of God, his Notes are thoroughly Scriptural. That no doubt accounts for the fact that this commentary bears the approval of Bible-believing Christians everywhere.


Thayer's Greek New Testament Lexicon
Take your understanding and Bible study to a new level with one of the most revered lexicons ever published. Complete with all Greek and Hebrew characters, and linked to both the KJV and Strong's Greek Dictionary, this lexicon is made even more usable than the print standard.
Bible Dictionary by A.R. Fausset
It is a storehouse of Scriptural information in a most accessible form; put within the reach of all Bible students, learned and unlearned alike. Many subjects which most of the Bible dictionaries omit, and which are of deep interest, are explored, for instance, Antichrist, The Thousand Years or Millennium, Inspiration, Predestination, Justification, Number, Divination (in its bearing on Spiritualism).
Word Pictures in the New Testament by A.T. Robertson
(Includes Matthew-Luke, and Acts-Philemon)
In this work one finds the fruits of scholarship made available for the man without technical equipment. Professor Robertson possesses the faculty of making uniquely vivid the meaning and characters of the world's greatest Book. His scholarship is at all times unimpeachable, his spiritual insight is profound, and his style is of the highest order. In this, the culmination of his life's work, he has combined the elements of his varied talent to produce a study of surpassing strength and beauty. It will live among the great contributions of our day.
Systematic Theology by A. Strong
A veritable encyclopedia of Christian information, this monumental work has been a required standard textbook in seminaries and colleges for many decades. An indispensable resource and reference book that thoroughly explores the field of theological knowledge.
Smith's Dictionary
Smith's Dictionary is considered by many to be the best-known Bible dictionary ever published in America. This edition is the complete unabridged text of Pleoubet's revision.
The Fundamentals Edited by R.A. Torrey
This is a historic set that embodies a defense of the faith which remains relevant to this day. The entire set is a veritable survey of Christian tenets from the standpoint of faith, dealing with such topics as: Higher Criticism, The First Chapters of Genesis, The Recent Testimony of Archaeology to the Scriptures, Science and Christian Faith, The Inspiration of the Bible, The Testimonies of the Scriptures to Themselves. The Certainty and Importance of the Bodily Resurrection of Jesus Christ, The Biblical Conception of Sin, Preach the Word, The Doctrines That Must Be Emphasized in Evangelism, The True Church, Evolutionism in the Pulpit. These are the headings of only a few of the one hundred chapters found in these four volumes. These topics indicate that the questions and problems which confronted Christianity and the church in the first decades of this century were not much different from those which plague us today.

In 1909 God moved two Christian laymen to set aside a large sum of money for issuing twelve volumes that would set forth the fundamentals of the Christian Faith. A Committee of men known to be sound in the faith was chosen to have oversight of the publication of these volumes. The actual and direct supervision eventually devolved on the well-remembered R. A. Torrey as Executive Secretary. The twelve volumes were eventually republished in four volumes. This is the set which is here presented for its practical and historical value to today's generation.

Among the well-known and respected authors you will meet in these volumes are George F. Wright, James Orr, W. H. Friffith Thomas, George L. Robinson, James M. Gray, Arno C. Gaevelein, Benjamin B. Warfield, R. A. Torrey, W. J. Erdman, Thomas Boston, Bishop Ryle, G. Campbell Morgan, Charles R. Erdman, and A. C. Dixon.


Map Collection
The addition of this collection of over 120 maps adds to our Son Light (TM) map collection to make the Master Christian Library your first stop for understanding the terrain and geography of the lands mentioned in the Bible. Click here to see some samples.
---



Items below are new to version 7

A Dictionary of Bibles Types by Walter L. Wilson
Bible typology is the systematic classification of biblical terms, words and people that have common characteristics or traits. A Dictionary of Bible Types examines over 1,000 types, shadows, signs, symbols, pictures, figures and patterns in the Bible, with topics ranging from "Aaron" to "Yoke". This is a useful resource for teachers, study groups and pastors. Walter L. Wilson was a physician, pastor and Bible student who spent much of his life collecting and analyzing the variety of "types" depicted on the Bible.

The Concise Bible Commentary by James M. Gray, D.D.
The Concise Bible Commentary provides a clear understandable overview of the Old and New Testaments, in one convenient volume. Designed to supplement reading of the Bible, it furnishes explanations and expositions, devotional insights, and spiritual guidance in an easy-to-use layout. Following each commentary section, inductive study questions provide an opportunity for review and further reflection.

Commentary on the Old Testament (New Updated Edition) by C.F. Keil and F. Delitzsch
This classic conservative evangelical series includes a discussion of the nature of Old Testament literature, introduces each book of the Old testament, and offers in-depth analyses of the Hebrew text. This edition is newly typeset in modern, easy-to-read type, Arabic has been transliterated, biblical references have been changed from roman to Arabic numerals, and long paragraphs have been broken into shorter ones so that the work is easier to read.

Matthew Henry's Commentary on The Whole Bible by Matthew Henry
Matthew Henry's Commentary has been valued companion to the Bible for over three centuries. Now updated using modern, easy-to-read typestyle with a new format, this commentary will remain a source of inspiration and wisdom for those seeking deeper insight into the Scriptures. The text is entirely faithful to the original.

The Works of Josephus (New Updated Edition) Translated by William Whiston
Complete and unabridged, this is the best one-volume edition of the classic translation of Josephus' works. Important improvements include: an entire text that has been reset in modern, easy-to-read type; a new numbering system that corresponds to that used in the Loeb edition; citation and cross-references that have been updated from roman numerals to Arabic numbers.

The Works of Philo (New Updated Edition) Translated by C. D. Yonge
A contemporary of Paul and Jesus, Philo is unquestionably among the most important writers for historians and students of Hellenistic Judaism and early Christianity. This affordable, convenient, single-volume edition is keyed to the Loeb referencing system. The nineteenth-century translation has been entirely reset in modern, easy-to-read type. Contains a new foreword, new notes throughout, and newly translated sections previously omitted from the older edition.

The Tabernacle (Its Priests and Its Service, Updated Edition) by William Brown
The temple was the center of the religion of Jerusalem, and the tabernacle was the center of the temple. The Tabernacle provides thorough descriptions of every element of the tabernacle. Fifty illustrations depict the tabernacle and its surroundings: the silver foundation, the golden walls, the curtain, the hangings, the furniture, and the clothing of the priests. The study of the tabernacle, its rites, and the meanings behind them, clearly shows Jesus Christ to be the final fulfillment of all that the tabernacle foreshadowed.

What the Bible Teaches by R. A. Torrey
This classic volume provides numerous outlined studies of what the Bible has to say on over fifty major doctrines of the Bible. The work examines what the Bible teaches about God, Jesus, the Holy Spirit, man, angels, Satan, prayer, worship, faith, and more. Torrey has made an attempt at a careful, unbiased study and statement of biblical truth, based upon a careful study of the original text. This orderly, systematic and thorough handbook has been completely reformatted and the language has been updated.

Items in ORANGE are new to version 7, those in YELLOW indicate new to version 6

BIBLES
Jerome (Latin Translation) The Vulgate
King James Version - New Testament & Old Testament
American Standard - New Testament & Old Testament
Darby Translation - New Testament & Old Testament
Young's Literal Bible Translation - New Testament & Old Testament
Weymouth's NT in Modern Speech - New Testament
La Santa Biblia (Reina-Valera, 1909)

REFERENCE
A Dictionary of Bible Types, Walter Wilson
The Concise Bible Dictionary, James M. Gray
International Standard Bible Encyclopedia - 10 Volumes A-Z
Easton's Bible Dictionary
Nave's Concise Topical Bible
Wetzel, R. C. - Chronology Of Biblical Christianity
Torrey's New Topical Textbook
Hitchcock's An Interpreting Dictionary of Scripture Proper Names
Strong's Greek Dictionary with Strong's Numbers

COMMENTARIES
Commentary on the Old Testament (Updated Edition) by C. F. Keil and F. Delitzsch
Matthew Henry's Commentary on the Whole Bible
Jamieson, Faussett & Brown
Adam Clarke's Commentaries - 8 Volumes Gen - Rev (3 new Volumes)
Joseph Beet - Commentaries on Romans through Philemon
Darby - Synopsis on the Bible - New Testament & Old Testament
Matthew Henry - Concise Whole Bible Commentary - New Testament & Old Testament
John Wesley - Notes On The Bible - New Testament & Old Testament
John Calvin - Commentary on Hebrews
John Calvin - Harmony of the Gospels - Vol. 1-3
Deismann - The NT in the Light of Modern Research
Haldane - Exposition of the Epistle to the Romans
Hodge - I Corinthians, II Corinthians, Ephesians, Romans
Innes & Powell - The Trial Of Christ
Ramsay - The Letters to the 7 Churches Born In Bethlehem?
Spurgeon - Commentary on Matthew
Thomas Watson - The Lord's Prayer

THEOLOGY
Torrey, R. A. - What the Bible Teaches
Creeds Of The Early Church
Anonymous - Theologia Germanica
Aquinas, Thomas - Summa Theologica - 6 Vols.
Introduction to Aquinas & Contents
Arminius, James - The Works Of Arminius 3 Vols.
Baxter - The Saint's Everlasting Rest
Augustine - Enchiridion
Clarke, Adam - Clavis Biblica
Chesterton, G. K. - Orthodoxy; Heretics
Denney, James - The Death Of Christ
Flavel, John - Method Of Grace
Hodge, Charles - Holy Spirit
Melanchthon, Phillip - The Augsburg Confessions
Pink, A. W. - The Divine Inspiration of the Bible; The Godhead of God; The Law and the Saint
Shedd, W. G. T. - The Doctrine Of Endless Punishment
Spurgeon, C. H. - A Puritan Catechism
Vincent, Marvin - NT Word Studies - Vols. 1-4
Whitefield, George - Sermons
White - The History Of Warfare Of Science With Theology

HISTORICAL
Brown, William - The Tabernacle (Its Priests and Its Service, Updated Edition)
The Works of Josephus (New Updated Edition), William Whiston, Trans.
The Works of Philo (New Updated Edition), William Whiston, Trans.
Apocrypha
John Foxe - Foxe's Book of Martyrs
Whiston, W. - The Life and Writings of Flavius Josephus
Gibbon - Decline And Fall Of Roman Empire - 6 Vols.
Hetherington, William - History Of The Westminster Assembly
Bang, Nathan - History of the Methodist Episcopal Church - 4 Vols. 1766-1840
Schaff, Philip - The History of the Christian Church - 8 Vols.

---

COLLECTIONS

SIR ROBERT ANDERSON

Forgotten Truths; Gospel & Its Ministry; Redemption Truths; Silence Of God; The Coming Prince; The Lord Of Heaven And Earth; Types In Hebrews

JOHN BUNYAN

Volumes 1-9
JOHN CALVIN

Institutes of the Christian Religion - Volumes 1-4; The Christian Life
Commentary on Hebrews; Harmony of the Gospels - Vol. 1-3; On Prayer

ALFRED EDERSHEIM

Sketches In Jewish Social Life; The Temple;
The Life and Times of Jesus the Messiah - Vols. 1&2
The History of the Christian Church
Bible History - Vols. 1-7: Pre-Flood World and Patriarchs ... Decline of the Two Kingdoms to The Captivity
JONATHAN EDWARDS

Volumes 1-6 (1 new Volume)
CHARLES G. FINNEY

Sermons: Volumes 1-3; Lectures on Theology; Lectures On Revival
Revival Fire; Lectures to Professing Christians; Power From On High Systematic Theology Making A New Heart
WILLIAM LAW

A Serious Call to a Devout and Holy Life; The Spirit of Love;
The Spirit of Prayer; An Address to the Clergy; An Appeal to Doubters;
Justification by Faith and Works; The Way to Divine Knowledge
Collection of Letters; The Grounds and Reason of Christian Regeneration
A Defense of the Lord's Supper
MARTIN LUTHER

Good Works; Preface To Romans; Table Talk; 95 Theses
The Large Catechism; The Small Catechism; The Smalcald Articles
DWIGHT L. MOODY

Bible Characters; The Home Work; Prevailing Prayer; Secret Power
Twelve Select Sermons; The Way To God; Wondrous Love
JOHN OWEN

Volumes 1-6
C. H. SPURGEON

Sermons: 250 Selected Expositions - Vol.1-4
According To Promise; All of Grace; Faith's Checkbook; Commentary on Matthew
Morning and Evening: Daily Readings; A Puritan Catechism;
Till He Come: Communion Meditations
JOHN WESLEY

The Complete Works of John Wesley - 14 Volumes
Journal 1735-1760; The Life of John Wesley; Sermons, 1-141
Addresses, Essays and Letters, Dialogs, Thoughts, Prayers, Writings
Grammars, Musical Work

EARLY CHURCH FATHERS

THE ANTE-NICENE FATHERS
Volume 1 - The Apostolic Fathers with Justin Martyr and Irenaeus
Clement, Mathetes, Polycarp, Ignatius, Barnabas, Papias, Justin Martyr
Volume 2 - Fathers of the Second Century
Hermas, Tatian, Theophilus, Athenagoras, Clement of Alexandria
Volume 3 - Latin Christianity; Its Founder Tertullian
I. Apologetic, II. Anti- Marcion, III. Ethical
Volume 4 - Fathers of the Third Century
Tertullian, Minucius Felix, Commodianus, Origen
Volume 5 - Fathers of the Third Century
Hippolytus, Cyprian, Caius, Novatian, with Appendices
Volume 6 - Fathers of the Third Century
Gregory Thaumaturgus, Dionysius the Great, Julius Africanus, et al
Volume 7 - Fathers of the Third and Fourth Centuries
Lactantius, Dionysius of Rome, Teaching of the Apostles, Early Liturgies
Volume 8 - Fathers of the Third and Fourth Centuries
Testaments of the Twelve Patriarchs, Apocrypha of the New Testament, etc
[Volume 9 - Index to the printed edition; now part of search feature]
Volume 10 - Original Supplement to the American Edition

THE NICENE AND POST-NICENE FATHERS - SERIES 1
Volume 1 - Augustin: Confessions and Letters
Volume 2 - Augustin: City of God; Christian Doctrine
Volume 3 - Augustin: Trinity; Doctrinal & Moral Treatises
Volume 4 - Augustin: Anti- Manichaen & Anti- Donatist Writings
Volume 5 - Augustin: Anti- Pelagian Writings
Volume 6 - Augustin: Sermon On Mount; Gospel Harmony & Homilies
Volume 7 - Augustin: Gospel & Epistles of John; Soliloques
Volume 8 - Augustin: Expositions on the Psalms
Volume 9 - Chrysostom: The Priesthood; Treatises, Letters, etc
Volume 10 - Chrysostom: Matthew
Volume 11 - Chrysostom: Acts and Romans
Volume 12 - Chrysostom: I and II Corinthians
Volume 13 - Chrysostom: Galatians to Philemon
Volume 14 - Chrysostom: Gospel of John and Hebrews

THE NICENE AND POST-NICENE FATHERS - SERIES 2
Volume 1 - Eusebius, The Writings of
Volume 2 - Socrates Sozomenus; Church Histories
Volume 3 - Theodaret; Jerome; Gennadius; Rufinus
Volume 4 - St. Athanasius: Selected Writings
Volume 5 - Gregory of Nyssa
Volume 6 - St. Jerome: Letters
Volume 7 - Cyril of Jerusalem; Gregory of Nazianzen
Volume 8 - St. Basil: Selected Works
Volume 9 - St. Hilary of Potiers; John of Damascus
Volume 10 - St. Ambrose: Selected Works
Volume 11 - Sulpitus Severus; Vincent of Lerins; John Cassian
Volume 12 - Leo the Great; Gregory the Great
Volume 13 - Ephraim Syrus; Aphrathat
Volume 14 - The Seven Ecumenical Councils; The Nicene Creed

HOLINESS COLLECTION
Aman, W. C. - The Cross and Crown of Holiness; Fountains and Rivers of Holiness
Bevington - Remarkable Incidents
Boardman, L. S. - Stories
Brockett - The Riches of Holiness
Carradine, Rev. B. - The Altar Service; Beulah Land; The Better Way; The Bottle; Bundle of Arrows; Bible Characters; Church Entertainments; Gideon; Golden Sheaves; Graphic Scenes; Heart Talks; Jonah; Journey to Palestine; Revival Sermons; Pastoral Sketches; Pen Pictures; People I Have Met; Revival Incidents; The Old Man; Remarkable Occurences; The Sanctified Life; Sanctification; Soul Help
Chapman, B - Some Estimates of Life; Holiness: Heart of the Christian Experience; Singing in the Shadows; Present Day Parables
Clarke, Adam - Entire Sanctification; Salvation By Faith Proved
Gorrie, D. - A Short Biography of Adam Clarke
Hill, A. M. - Dying to Live; Holiness and Power; Pentacostal Light
Eckart, Mark - A Presentation Of Perfection
Godbey, W. B. - New Testament Commentary - Vols.1-7
Gorrie, P. D. - Lives Of [Holiness] Ministers
Keen, S. A. - Faith Papers; Salvation Papers
Maxey, I. P. - We'll Get To That Later
Ridout - Beauty Of Holiness
Shepard, W. E. - Scriptures

MINISTRY
Baxter - The Reformed Pastor
Coke - Duties Of Minister
Darby, J. N. - The Ministry

ILLUSTRATION / QUOTATION COLLECTION
Classic Sermon Illust.
Pearls From Many Seas
Aesop's Fables
2010 Popular Quotations
Strang, C. B. - Meeting Life Situations

BIOGRAPHY COLLECTION
Adam Clarke (Autobio) Adam Clarke
Charles G. Finney (Autobio)
John Flavel
George Fox (Autobio)
D. L. Moody
John Owen
C. H. Spurgeon
John Wesley
Melancthon - The Life and Acts of Martin Luther

INSPIRATION
Bounds, E. M. - The Preacher & Prayer : The Necessity of Prayer : The Possibility of Prayer
Bernard of Clairvaux - On Loving God
Brengle, Samuel - Soul Winners Secret
Burroughs, Jeremiah - The Rare Jewel Of Christian Contentment
Donne, John - Devotions
Flavel, John - Sermons: The Fountain of Life
Hilton, Walter - The Scale of Perfection
Jowett - Sharing His Suffering
Thomas A. Kempis - The Imitation of Christ
Br. Lawrence - Practicing the Presence Of God
Alphonsus de Ligouri - Uniformity With God's Will
Smith, Hannah W. - The Christian's Secret Of A Happy Life
Taylor, J. Hudson - A Ribband of Blue and Other Stories

FICTION
MacDonald, George - At The Back Of The North Wind

BIBLE STUDIES
Derickson, S. - Notes On Theology, A Study Course; Bible Studies - Vol.1-5
CLASSIC MAPS
Ancient World - After Flood Jerusalem - Environs
Ancient World - Settlements Journey in the Wilderness
Armenia, Assyria, Etc. Journeys of Paul
Canaan - Patriarchs Journeys of Paul 2
Canaan - Twelve Tribes Judah and Israel
Countries of Jewish Captivity 1 Palestine - Central
Countries of Jewish Captivity 2 Palestine - North
Dominions - David and Solomon Palestine - Physical Map
Egypt - Horeb Pennisula Palestine - Physical Map 2
Herod's Temple Palestine - South
Jerusalem (Circ. 1900) Palestine - Time of Christ
Jerusalem - Ancient Sea of Galilee



Please Email or Call 0844 808 3699 to enquire about site licenses, network versions, bulk discounts or educational pricing.

[Buy now] or call us on 0844 808 3699

Manufacturer's Product Code: Ages - BMSoftware Product Code: MXL8CD
SCREENSHOTS


---
REVIEWS


---
None available
SYSTEM REQUIREMENTS


---
Windows PC
486 Processor or higher
Yes
Win 95/98/Me/2000/NT/XP, 16(95/98)- 64(XP) MB free RAM, 10MB free HD, CDROM Drive
Apple MAC
Yes
System 7.5.5 or later *, 8MB free RAM, 10MB HD space, CDROM drive
Linux
N/A
* NOTE - If you are running Macintosh OS X, we recommend using Ages Digital Libraries in Classic (OS9) Mode.

VERSIONS, OPTIONS & ALTERNATIVES


---
| | | | | | |
| --- | --- | --- | --- | --- | --- |
| Ages | Master Christian Library 8 | £62 | (RRP £69) | [MXL8CD] | Buy or Phone 0844 808 3699 |

Compare also:

Ages Christian Library Series, from £19.95 details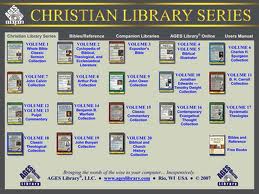 An updated collection of over 1000 books in 20 volumes on CD, DVD, download or USB memory stick including the Whole Bible Classic Sermon Collection, Cyclopedia of Biblical, Theological and Ecclesiastical Literature, Expositor's Bible, Biblical Illustrator, Charles H. Spurgeon Collection, John Calvin Collection, Arthur Pink Collection, John Owen Collection, Jonathan Edwards-Timothy Dwight Collection, B.H.Carroll Collection, Pulpit Commentary, Benjamin B.Warfield Collection, Classic Commentary Collection, Contemporary Evangelical Thought Collection, Systematic Theologies, Classic Theological Collection, John Bunyan Collection, Biblical and Church History Collection.

Now compatible with Apple Mac OS X, Windows 2000, XP, Vista, Windows 7, 32 or 64 bit. Upgrades available please email.
PRICING


---
| | | | | | |
| --- | --- | --- | --- | --- | --- |
| Ages | Master Christian Library 8 | £62 | (RRP £69) | [MXL8CD] | Buy or Phone 0844 808 3699 |

Also see alternative versions and products above

Prices are in £GBP and include all applicable taxes (VAT etc)

P&P will be charged at "light/heavy items" rates
(Some valuable items may have to go special delivery and packages may have outer packaging or inner boxing removed to save weight, if this is a gift or for resale please request intact boxes)

See our full Postage & Delivery Details including shipping rates within the UK, Europe and worldwide, first class and next day before 9 AM and 12 Noon, same day options.

Email to check latest pricing or stock availability or for a bulk discount quote of up to 40%.

Check Exchange Rates to convert UK pricing or Email us with your country and/or currency for a quote.


ORDERING


---
Any questions prior to ordering? - then email: Sales or call us on 0844 808 3699, otherwise proceed to the Order Form.

If the online Order Form fails for any reason or your product is not yet listed there, or you wish to print and send your order, then fill in the following, hit the [Select details] button below, and copy and paste to your email program or word processor:

Now hit copy (Ctrl+C) the selected text to your clipboard and then paste (Ctrl+V) it into your preferred Email program or click here to launch your Email editor.
CONTACT DETAILS


---
Click here for full Contact Details including postal address, additional phone lines and technical support email.

Whilst we are based in Norwich, Norfolk in the UK we can ship most items internationally.


RETURN TO
TOP OF PAGE

CLOSE
WINDOW

PRINT
PAGE

HOME
PAGE

TERMS AND
CONDITIONS

HELP ON USING
THIS SITE