| | | |
| --- | --- | --- |
| | Abraham's Journey Interactive | |
Details and specifications of Abraham's Journey Interactive, £19.50. Description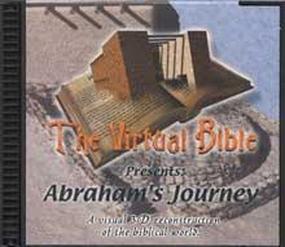 "Abraham's Journey" guides the user through the geographical and cultural features of the land Abraham would have traveled through as described in Genesis 12 and 13. The CD has three parts and portrays the geographical features of the journey, a reconstruction of a Canaanite city such as Abraham would have seen and a collection of artifacts, such as lamps and jugs, that the user can "pick up" and examine. There are video clips -- including a helicopter flyover of Abraham's route -- narration and text, plus data files that allow the user to print still pictures and text.

This unique CD uses a combination of aerial video, graphic reconstructions, and historic information to describe the Canaanite period and Abraham's journey from northern Israel to Beersheba, where he made his home. Utilizing narrative, fly-over footage, and interactive 3D reconstructions, it is both educational and entertaining.
Visit a virtual reconstruction of the famous city of Megiddo (New Testament Armageddon) that protected the famous Jezreel Valley. Navigate through the palace, temple complex, gate fortifications and urban house, or examine 3D images of artifacts from the site.

Produced by The Virtual Bible, this CD contains a wealth of historical and archeological information. It is Windows/Mac compatible.

The reconstructions are based on archaeological finds of the Middle Bronze period (about 2000 B.C.). Warner has participated in excavations of the temple in the ancient city of Megiddo, conducted by Tel Aviv University. The reconstructed city is depicted, including the palace, a residence and a large round stone altar.

Using a mouse, users are able to take a self-guided tour of the city, navigating around the buildings, getting a 360-degree view and moving up and down stone stairways. The effect is to give the viewer a glimpse of what life in the Eastern Mediterranean would be like 4,000 years ago.

SCREENSHOTS


---
Use you back button to return to this page after viewing the screenshots.

Screenshot 1 | Screenshot 2 | Screenshot 3 | Screenshot 4
REVIEWS


---
None available
VERSIONS


---
Abraham's Journey Interactive, £19.50

Compare also:

SYSTEM REQUIREMENTS


---
Win 95, or Mac OS
32 MB RAM
Quick Time on CD.
PRICING


---
Abraham's Journey Interactive, £19.50


Prices include all applicable taxes

P&P will be charged at "light/heavy items" rates (1/2/3 or 3/6) - see below

Email to check latest pricing or stock availability

Check Exchange Rates to convert UK pricing

Prices include all applicable taxes

P&P will be charged at "light/heavy items" rates (1/2/3 or 3/6) - click here for full Postage & Delivery Details including shipping rates within the UK, Europe and worldwide, and next day before midday options.


ORDERING


---
Any questions prior to ordering? - Then email: sales@bmsoftware.com.

To order, use the online

If the online [Order Form] fails for any reason or your product is not yet listed there, or you wish to print and send your order, then fill in the following, hit the [Select details] button, and copy and paste to your email program or word processor:

Now hit Ctrl+C to copy the selected text to your clipboard and then paste (Ctrl+V) it into your preferred program Make sure you read our Terms and Conditions.
CONTACT DETAILS


---
Click here for full Contact Details including postal address, additional phone lines and technical support email.

Whilst we are based in the UK we can ship most items internationally.


| | | | | | | | |
| --- | --- | --- | --- | --- | --- | --- | --- |
| | RETURN TO TOP OF PAGE | | CLOSE WINDOW | | PRINT PAGE | | HOME |